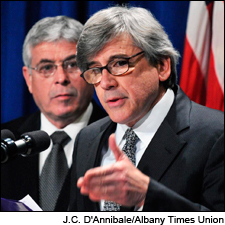 Retailers and wholesalers are alarmed by new State Liquor Authority rules and more than $3 million in fines; chairman insists he is ensuring a fair industry
Posted: October 9, 2014 By Robert Taylor
Albany's Empire Wine fires back with lawsuit against New York State Liquor Authority
Posted: September 23, 2014 By Robert Taylor
WineGavel founder faces 12 counts of theft concerning more than $500,000 in wine
Posted: July 31, 2014 By Robert Taylor
Where can consumers have wine shipped directly to their homes?
Posted: July 14, 2014 By Robert Taylor
Direct-to-consumer sales measure included in budget signed by governor; delivery-truck permits remain an obstacle
Posted: July 14, 2014 By Robert Taylor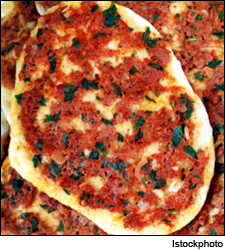 The star chef shares a New York recipe from his Otto pizzeria in Greenwich Village
Posted: May 5, 2014 By Robert Taylor
Posted: April 30, 2014 By MaryAnn Worobiec, Robert Taylor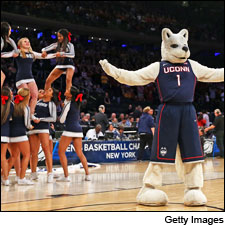 Wine Spectator's annual March Madness competition puts wineries from Connecticut, Florida, Kentucky and Wisconsin on the court
Posted: April 4, 2014 By Robert Taylor, Ben O'Donnell, Esther Mobley
Posted: February 28, 2014 By Robert Taylor, Kasey Carpenter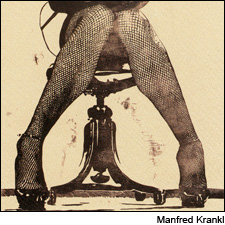 Blogs : Mixed Case: Opinion and Advice
Winemaker-artist Manfred Krankl designs his own labels, when the TTB doesn't get in the way
Posted: February 4, 2014 By Robert Taylor
Many winemakers adorn their bottles with art. Very few make the label art themselves, and none is more famous for doing so than California Rhône cult icon Manfred Krankl, whose coveted Sine Qua Non wines feature a new piece of his original artwork on every cuvée.
A self-taught craftsman, Krankl was never formally trained as a winemaker or as an artist. But collectors patiently wait years for a chance to join the Sine Qua Non mailing list (the secondary-market price for his new wines is double to quadruple what Krankl charges), and his early one-off labels like The Marauder, The Hussy and The 17th Nail in My Cranium have become iconic works of winemaking art in their own right.