Thanks to a hardcore group of fans, more high quality sake is available than ever before
Posted: May 31, 2013 By Mitch Frank
Raúl Pérez Makes hundreds of wines from forgotten grapes and vineyards in his one-man quest to define terroir
Posted: May 31, 2013 By Mitch Frank
Blogs : Mixed Case: Opinion and Advice
Consumers and wine merchants are complaining that château owners are charging too much. The real solution is to drink something else
Posted: May 16, 2013 By Mitch Frank
Like most wine regions, Bordeaux has an annual rhythm. When the grapes ripen, it's time for harvest, or vendange. After the wine ferments, they pour it into oak barrels for élevage. With February, blending, or assemblage, begins.
May brings another annual Bordeaux ritual. Sadly, I don't know the French word for whining.
April 30, 2013 Issue : Features
Stefano Inama is a bold voice among the true believers working to restore the Italian region's reputation
Posted: April 30, 2013 By Mitch Frank
April 30, 2013 Issue : Features
Bruno Giacosa toiled for decades to make some of Piedmont's greatest wines. Now a new generation is building on his labors
Posted: April 30, 2013 By Mitch Frank
When it comes to winemaking, Elisabetta Foradori considers success less important than passion
Posted: April 30, 2013 By Mitch Frank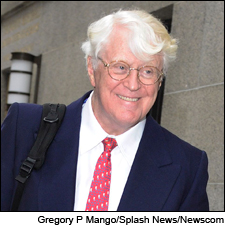 Court finds that collector Eric Greenberg defrauded Florida billionaire at wine auction
Posted: April 12, 2013 By Peter Hellman, Mitch Frank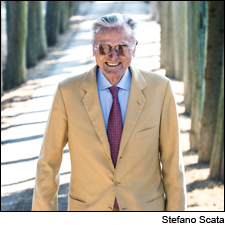 The patriarch of the Tuscan estate many credit with creating Brunello was an outspoken champion of the wine
Posted: April 8, 2013 By Mitch Frank, Bruce Sanderson
Posted: March 31, 2013 By Mitch Frank
Blogs : Mixed Case: Opinion and Advice
Bill Koch has spent eight years and millions of dollars picking fights over wine
Posted: March 28, 2013 By Mitch Frank
The picture is still hanging in my office: Bill Koch, the energy executive who has made fighting sales of counterfeit rare wines a personal obsession, stares menacingly at me, wearing a cowboy hat, a bandana and a sheriff's star. The shot was taken when Wine Spectator photographed Koch for our Dec. 15, 2009, cover story, "The Crusade Against Counterfeits." The outfit was Koch's idea: In addition to wine, he collects Old West memorabilia.
In the end, we opted for a shot of Koch in a suit, holding a magnum of Château Pétrus 1921. Koch says he bought that bottle at a 2005 Zachys auction of 17,000 bottles of wine from the cellar of California tech entrepreneur Eric Greenberg. Koch alleges that Greenberg bought it from Royal Wine Merchants, and Royal sourced it from German wine broker Hardy Rodenstock. Koch believes it's a fake.
That magnum, and all those players, are back in the headlines this week, as a jury of six men and two women hear Koch v. Greenberg in a Manhattan federal court. Koch has been suing Greenberg for six years over 24 bottles he bought for almost $350,000 at that auction, wines he says are counterfeit. (Contributor Peter Hellman, who has doggedly pursued this topic, has written an excellent summary of the case.)