Blogs : Mixed Case: Opinion and Advice
Wine is a gift from nature, but it's mankind's job to safeguard it
Posted: June 18, 2013 By Mitch Frank
Every third day, I play my version of wine roulette, uncorking a bottle I first opened two days earlier and seeing if the last one or two glasses worth of wine at the bottom still taste good. Most recently it was a bottle of RdV Vineyards Lost Mountain Red, a lovely Bordeaux blend from Virginia's emerging Middleburg area. (RdV employs Eric Boissenot, a Bordeaux winemaking consultant I profiled in our June 30 issue.)
When faced with an unfinished bottle, I shove the cork back into place and put the bottle in the fridge. I know, I could pour the leftover wine into a smaller bottle or try some fancy inert-gas device; some of my colleagues have been known to freeze leftover wine. But I've settled on the cork-it-and-cool-it technique, and it works most of the time if I drink the wine within three days. Sadly, this time it failed. The RdV was bright at first, but the finish held a touch of vinegar. It wasn't the wine's fault—it was probably too much air and not enough wine.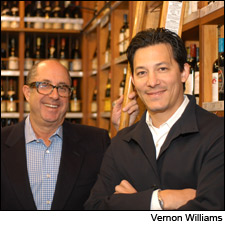 Co-owner Christian Navarro and Marciano brothers buy store from founder Steve Wallace; sources say possible national expansion in the works
Posted: June 18, 2013 By Mitch Frank
Posted: June 15, 2013 By Mitch Frank, Bruce Sanderson
Brothers allege in federal lawsuit that they bought phony magnum of Domaine de la Romanée-Conti from restaurant
Posted: June 14, 2013 By Mitch Frank
Thanks to a hardcore group of fans, more high quality sake is available than ever before
Posted: May 31, 2013 By Mitch Frank
Raúl Pérez Makes hundreds of wines from forgotten grapes and vineyards in his one-man quest to define terroir
Posted: May 31, 2013 By Mitch Frank
Blogs : Mixed Case: Opinion and Advice
Consumers and wine merchants are complaining that château owners are charging too much. The real solution is to drink something else
Posted: May 16, 2013 By Mitch Frank
Like most wine regions, Bordeaux has an annual rhythm. When the grapes ripen, it's time for harvest, or vendange. After the wine ferments, they pour it into oak barrels for élevage. With February, blending, or assemblage, begins.
May brings another annual Bordeaux ritual. Sadly, I don't know the French word for whining.
April 30, 2013 Issue : Features
Stefano Inama is a bold voice among the true believers working to restore the Italian region's reputation
Posted: April 30, 2013 By Mitch Frank
April 30, 2013 Issue : Features
Bruno Giacosa toiled for decades to make some of Piedmont's greatest wines. Now a new generation is building on his labors
Posted: April 30, 2013 By Mitch Frank
When it comes to winemaking, Elisabetta Foradori considers success less important than passion
Posted: April 30, 2013 By Mitch Frank