FIU hospitality school will train students in Wine Spectator Restaurant Management Lab
Posted: December 31, 2013 By Mitch Frank
Posted: December 31, 2013 By Mitch Frank
Posted: December 31, 2013 By Mitch Frank, Peter Hellman
Dec. 31, 2013 Issue : Features
Posted: December 31, 2013 By Mitch Frank
Dec. 31, 2013 Issue : Features
Thousands gather in the Big Apple for Three Days of Life, Love and Wine
Posted: December 31, 2013 By Mitch Frank
Blogs : Mixed Case: Opinion and Advice
Are counterfeits a victimless crime? Not when they rob us of the pleasure wine can deliver
Posted: December 18, 2013 By Mitch Frank
I love hearing people's "aha!" moments with wine—that instant when they realized that wine is more than just a beverage, that great wine has personality.
Here's a good one: A young man takes his visiting father out for dinner to celebrate dad's birthday. Neither knows much about wine, but the son decides this is a special occasion so he orders the most expensive bottle on the list. The wine—a 1996 Opus One—opens the young man's eyes. Within a few months, he's buying several bottles of Opus One, then other top wines. (Luckily, he has a decent amount of money.) Soon, he's hooked. Wine becomes his passion, and he's attending tastings and collecting rare bottles. Burgundy in particular beguiles him.
Like much of what we know about Rudy Kurniawan, it's hard to tell how much of this story is true and how much he concocted. Kurniawan told this tale to a journalist in 2006, just after an auction of his wines raised $24.7 million, a record for a single-consignor auction. Since he began attending auctions and tastings a decade ago, Kurniawan had always been vague about his origins and his seemingly deep pockets.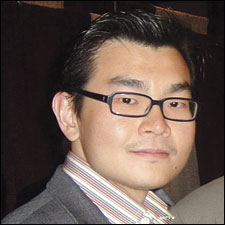 First federal prosecution for selling fake wine yields a conviction; Indonesian collector faces possible sentence of 40 years
Posted: December 18, 2013 By Peter Hellman, Mitch Frank
Hubert de Boüard has battled to gain recognition in St.-Emilion
Posted: December 15, 2013 By Mitch Frank
Blogs : Mixed Case: Opinion and Advice
Winemakers like to say that they do things just like the previous generation. Nonsense
Posted: December 10, 2013 By Mitch Frank
In 2008, I had the chance to walk through the cellars of François Raveneau, one of Chablis' greatest producers, to taste the wines and ask Bernard Raveneau how he and his brother Jean-Marie crafted such mind-blowing expressions of Chardonnay. It was one of the most frustrating hours of my life. The wines said a lot. But coaxing lengthy answers from the reserved Bernard was about as likely as getting the small French oak barrels to talk to me. What was the secret of Raveneau's success? "We are just doing what our father did," said Bernard, the first of several times he spoke those words during the day we spent together.
Numerous winemakers have told me the same tale: I am just doing what the previous generation did. Tradition informs every move I make.
Nov. 30, 2013 Issue : Features
Isabel Ferrando dreamed of making great wine in Châteauneuf-du-Pape
Posted: November 30, 2013 By Mitch Frank