Blogs : Mixed Case: Opinion and Advice
Blind tastings can be a perfect way to embarrass yourself, but they can also expand your wine horizons
Posted: January 3, 2013 By Mitch Frank
Everyone at my end of the table thought we knew what the wine was. We were all wrong.
The object of our confusion was a bottle sitting a few feet away, covered in a sheath of tartan wrapping paper. We all had some of the wine in our glasses. A few of my friends thought it was a California red, maybe from Sonoma County. Ron was pretty sure there was Cabernet Franc in it, thanks to a taste of tobacco leaf. I tasted it too, but I thought the wine was from France—maybe a Right Bank Bordeaux made from Merlot and Cab Franc.
Bryant, the charming (and apparently devious) friend who brought the wine, unwrapped the bottle. Inside was the gift of humiliation—a bottle of Boekenhoutskloof Syrah Coastal Region 2009—from South Africa.
Welcome to wine's most humbling game—the blind tasting.
Dec. 31, 2012 - Jan. 15, 2013 Issue : Features
Posted: December 31, 2012 By Mitch Frank
Dec. 31, 2012 - Jan. 15, 2013 Issue : Features
Posted: December 31, 2012 By Mitch Frank
Dec. 31, 2012 - Jan. 15, 2013 Issue : Features
Posted: December 31, 2012 By Mitch Frank
Dec. 31, 2012 - Jan. 15, 2013 Issue : Features
Posted: December 31, 2012 By Augustus Weed, Mitch Frank, Tim Fish, Alison Napjus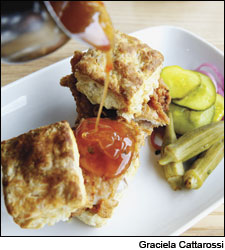 Posted: December 17, 2012 By Mitch Frank
Posted: December 15, 2012 By Mitch Frank
Dec. 15, 2012 Issue : Features
Francesco Ricasoli gave up a career in photography to save his family's historic Chianti estate
Posted: December 15, 2012 By Mitch Frank
Nov. 30, 2012 Issue : Features
South Florida's playground balances cosmopolitan cuisine with casual dining
Posted: November 30, 2012 By Mitch Frank
Nov. 30, 2012 Issue : Features
Consultant Philippe Cambie pushes himself to the edge to make outstanding wine
Posted: November 30, 2012 By Mitch Frank