Blogs : Mixed Case: Opinion and Advice
For years, there have been tantalizing clues that a little wine is good for us, but science is never simple
Posted: June 12, 2014 By Mitch Frank
Wine, consumed in reasonable amounts, can improve your health. Too much of it can kill you. (Isn't that true for most enjoyable things in life? Chocolate, sex, Game of Thrones ...)
America became the top wine-consuming nation last year, according to my number-crunching colleagues at Impact Databank. That's quite a twist for a country that once banned alcohol. One spark behind our increasing thirst is our growing belief that a little wine may be good for us. When 60 Minutes reported on the French Paradox in 1991, concluding that red wine was lowering French rates of heart disease, we started self-prescribing red wine overnight.
Former owner of Cru plans to auction trove of 100,000 bottles, most of it Burgundy
Posted: June 11, 2014 By Mitch Frank
Posted: May 31, 2014 By Mitch Frank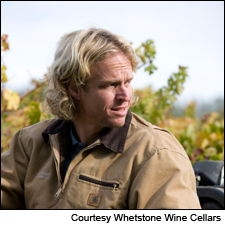 Winemaker Jamey Whetstone gains financial backing and will take post at Evening Land's Sonoma winery
Posted: May 28, 2014 By Aaron Romano, Mitch Frank
Blogs : Mixed Case: Opinion and Advice
It's hard to discuss the potential promise and perils of genetically modified organisms if fear trumps reason
Posted: May 21, 2014 By Mitch Frank
A French court ruled last week that a mob that destroyed an experimental vineyard in Alsace planted to genetically modified vines in 2010 was completely justified. It's another win for fear over reason when it comes to genetically modified organisms (GMOs).
Blogs : Mixed Case: Opinion and Advice
Rudy Kurniawan's lawyers claim fakes are part of the collecting 'game'; that cheapens all wine
Posted: May 8, 2014 By Mitch Frank
At the end of the month, a federal judge will decide how serious the crime of wine counterfeiting is. Rudy Kurniawan, convicted of selling an estimated $2 million to $7 million worth of fakes (no one is quite sure how many prized bottles he counterfeited), will be sentenced. He faces up to 40 years in prison.
His lawyers have made their plea for leniency, asking the judge to sentence Kurniawan to time served since his arrest—roughly 27 months. But what of their argument that counterfeit wine is just a game?
Blogs : Mixed Case: Opinion and Advice
By refusing to spray pesticides, is Burgundy's Emmanuel Giboulot a hero? Or wine's Jenny McCarthy?
Posted: May 1, 2014 By Mitch Frank
Should a biodynamic winegrower be forced to use pesticides against his will? Your answer probably depends on how much faith you put in science.
Blogs : Mixed Case: Opinion and Advice
Small wine lists packed with geeky wines serve wine directors' egos over customers
Posted: April 10, 2014 By Mitch Frank
Call it the sommelier's dilemma. Wine professionals like sommeliers and retailers spend their days tasting the most interesting wines on earth. That is their passion. But the majority of their customers are looking for safe, reliable wines, ones that don't challenge the brain or the palate. Those wines pay the sommelier's salary.
Posted: March 31, 2014 By Tim Fish, Mitch Frank
Liquor license suspended after state complains Batali and Bastianich store was selling Bastianich wines
Posted: March 25, 2014 By Mitch Frank, Thomas Matthews