Posted: August 31, 2014 By Aaron Romano, Mitch Frank
Posted: August 31, 2014 By Mitch Frank
Blogs : Mixed Case: Opinion and Advice
A fabricated tale about Two-Buck Chuck proves that some people can't take wine seriously
Posted: August 27, 2014 By Mitch Frank
Wine Spectator associate editor Mitch Frank reacts to internet hyperbole and the recent hoax that Two-Buck Chuck wine is made with animal blood.
Blogs : Mixed Case: Opinion and Advice
When it comes to wine, what's better: technical knowledge or on-the-job training?
Posted: July 17, 2014 By Mitch Frank
Wine has a duality of School of Books versus School of Real World. Once upon a not-so-long-ago time, most American sommeliers got their jobs because they were the only waiter who actually drank wine. "Like wine, kid?" the owner would ask one day, handing them the list. "You're wine director. Don't screw up."
As diners have grown more thirsty, sommeliers have gone to school. The Court of Master Sommeliers, in particular, has worked to raise standards by making sure more wine people receive proper training.
Judge demands federal prosecutors give him more information on victims of wine counterfeiter
Posted: July 14, 2014 By Peter Hellman, Mitch Frank
Blogs : Mixed Case: Opinion and Advice
For years, there have been tantalizing clues that a little wine is good for us, but science is never simple
Posted: June 12, 2014 By Mitch Frank
Wine, consumed in reasonable amounts, can improve your health. Too much of it can kill you. (Isn't that true for most enjoyable things in life? Chocolate, sex, Game of Thrones ...)
America became the top wine-consuming nation last year, according to my number-crunching colleagues at Impact Databank. That's quite a twist for a country that once banned alcohol. One spark behind our increasing thirst is our growing belief that a little wine may be good for us. When 60 Minutes reported on the French Paradox in 1991, concluding that red wine was lowering French rates of heart disease, we started self-prescribing red wine overnight.
Former owner of Cru plans to auction trove of 100,000 bottles, most of it Burgundy
Posted: June 11, 2014 By Mitch Frank
Posted: May 31, 2014 By Mitch Frank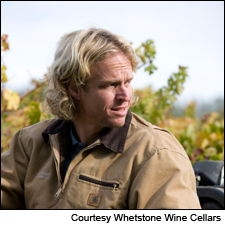 Winemaker Jamey Whetstone gains financial backing and will take post at Evening Land's Sonoma winery
Posted: May 28, 2014 By Aaron Romano, Mitch Frank
Blogs : Mixed Case: Opinion and Advice
It's hard to discuss the potential promise and perils of genetically modified organisms if fear trumps reason
Posted: May 21, 2014 By Mitch Frank
A French court ruled last week that a mob that destroyed an experimental vineyard in Alsace planted to genetically modified vines in 2010 was completely justified. It's another win for fear over reason when it comes to genetically modified organisms (GMOs).