Blogs : Mixed Case: Opinion and Advice
A proposed law in France would change wine from cultural treasure to public health threat
Posted: October 22, 2013 By Mitch Frank
Imagine France without wine. Bizarre, non? Wine is so associated with French culture, you would think they invented the stuff. Man has been making wine for thousands of years, but the French made it big business, refining it and marketing it to a thirsty world.
While the image of French wine has arguably never been stronger, especially in young markets like China, the French don't drink nearly as much as they used to. But lifestyles have changed in other ways; the French don't linger at long meals with a bottle or two like they used to, and young people don't see wine as a staple.
When wine isn't seen as part of a meal or something with cultural value, then it becomes just another alcoholic beverage. Maybe it's not so surprising that the French Senate is considering a bill that would impose new restrictions on wine.
A state council rules wines can be labeled Cannubi, even if they come from neighboring parcels
Posted: October 17, 2013 By Mitch Frank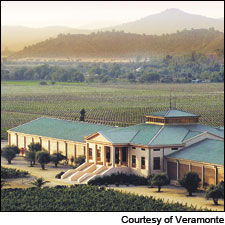 Chardonnay and Pinot Noir buds damaged by freezing nights, but winemakers say it's too early to panic
Posted: October 16, 2013 By Mitch Frank
Oct. 15, 2013 Issue : Features
In Spain's Campo de Borja, Bodegas Borsao climbed uphill for quality
Posted: October 15, 2013 By Mitch Frank
Blogs : Mixed Case: Opinion and Advice
Forget terroir, forget enology school graduates—the true wine heroes are single-cell fungi
Posted: September 24, 2013 By Mitch Frank
I spent much of the summer writing about people who produce some of the world's greatest wines, but the other day I realized something—I haven't written anything about the true winemakers. I'm talking about the ones who get dirty, turning grape juice into the complex beverage we all love. They're even ready to sacrifice their lives. I'm talking about yeast.
Posted: August 31, 2013 By Mitch Frank
Blogs : Mixed Case: Opinion and Advice
If grapes were being wiped out, genetically modified vines could be the solution—if people are willing to open their minds
Posted: August 13, 2013 By Mitch Frank
Imagine a bacterial scourge that was silently spreading from vineyard to vineyard, striking down grapevines in their prime, bankrupting wineries and threatening to turn even the most basic of wines into a rare luxury. Take a deep breath—it's fiction, for now. But it's a horrible reality for farmers who produce another of our favorite beverages—orange juice. Since 2005, bacteria has been spreading through orange groves from Florida to California, inflicting a disease called citrus greening. Infected trees produce small, sour oranges.
Blogs : Mixed Case: Opinion and Advice
The People's Republic has embraced wine—particularly French—in the past decade; not everyone is pleased by the hug
Posted: July 11, 2013 By Mitch Frank
Is there a China backlash in France's wine regions?
China's growing thirst for wine, particularly French wine, has been a favorite topic in wine circles for several years. Our fascination is understandable—the People's Republic of China has engineered a spectacular economic story during the past two decades, growing from 2 percent of global GDP to 16 percent, according to International Monetary Fund data. As China's wealth has soared and an upper class has arisen, wine sales have grown dramatically.
But anytime a new group joins an industry as tradition-minded as wine, some people are going to grumble. The three men in Hostens may be just isolated criminals, but they might also have given voice to an underlying tension: Some wine people may not welcome the planet's newest big spenders.
With his humble, thoughtful style, Eric Boissenot consults for 200 wineries, including all four Médoc first-growths
Posted: June 30, 2013 By Mitch Frank
Blogs : Mixed Case: Opinion and Advice
Wine is a gift from nature, but it's mankind's job to safeguard it
Posted: June 18, 2013 By Mitch Frank
Every third day, I play my version of wine roulette, uncorking a bottle I first opened two days earlier and seeing if the last one or two glasses worth of wine at the bottom still taste good. Most recently it was a bottle of RdV Vineyards Lost Mountain Red, a lovely Bordeaux blend from Virginia's emerging Middleburg area. (RdV employs Eric Boissenot, a Bordeaux winemaking consultant I profiled in our June 30 issue.)
When faced with an unfinished bottle, I shove the cork back into place and put the bottle in the fridge. I know, I could pour the leftover wine into a smaller bottle or try some fancy inert-gas device; some of my colleagues have been known to freeze leftover wine. But I've settled on the cork-it-and-cool-it technique, and it works most of the time if I drink the wine within three days. Sadly, this time it failed. The RdV was bright at first, but the finish held a touch of vinegar. It wasn't the wine's fault—it was probably too much air and not enough wine.