Dec. 31, 2014 Issue : Features
Posted: December 31, 2014 By Mitch Frank
Dec. 31, 2014 Issue : Features
Thousands come to Times Square for three days of friendship, education and wine
Posted: December 31, 2014 By Mitch Frank
Charles Banks traded a career in finance for the people and places of the wine business
Posted: December 15, 2014 By Mitch Frank
Johannes Hasselbach has found a passion for wine at the helm of his family's German estate
Posted: November 15, 2014 By Mitch Frank
Blogs : Mixed Case: Opinion and Advice
Paso Robles now has 11 new appellations. Most consumers won't care, but that doesn't make them meaningless
Posted: November 13, 2014 By Mitch Frank
OK, wine geeks: Pop quiz time. Tell me the difference between a wine made in Adelaida and one made in Estrella. What do you mean you have no idea where those places are? They're two of California's newest wine appellations.
Here's another question: Are appellations a way of defining terroir, or are they a marketing tool?
At their neighboring estates, the Haag brothers make outstanding Rieslings by mixing modernity and tradition
Posted: October 31, 2014 By Mitch Frank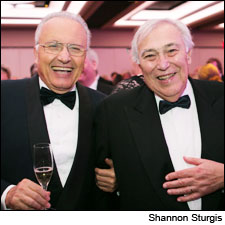 News & Features : News & Features
The Grand Award Banquet closed the 34th Wine Experience with recognition of greats and the bold brass of Chicago
Posted: October 23, 2014 By Mitch Frank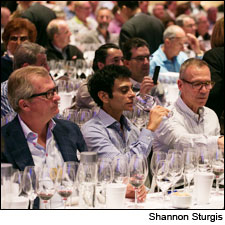 News & Features : News & Features
Thousands gather in Times Square for three days of friendship, education and 24,000 bottles of wine
Posted: October 22, 2014 By Mitch Frank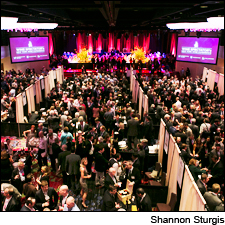 Wine Spectator's 2014 New York Wine Experience kicks off with a night of 267 wines
Posted: October 17, 2014 By Mitch Frank
Blogs : Mixed Case: Opinion and Advice
The Wine Experience isn't just about wine
Posted: October 16, 2014 By Mitch Frank
If you walk into a room where more than 260 of the world's best wines are being poured, your initial thought is undoubtedly, "Where do I get a glass?" The Wine Spectator Wine Experience begins Thursday night with the first of two Grand Tastings, where wine lovers get to grab a glass and taste. For more than a week now, many of my colleagues have been offering advice on which wines you shouldn't miss.
But here's my advice: Don't forget about the folks pouring the wine.