Blogs : Mixed Case: Opinion and Advice
New Orleans offers myriad food and drink options for anyone coming to the big game; here's my cheat sheet
Posted: January 24, 2013 By Mitch Frank
New Orleans is a little insane right now. Maybe that sounds silly describing a city where it's not odd to witness a brass band marching past your front porch, with your neighbors dancing behind it. But New Orleans is a little more insane than usual right now. This year, wedged tightly in the middle of the Carnival parades that start Friday, the NFL has brought the Super Bowl to town.
Are you coming for the game? Good. (If not, pay attention, because you should visit soon.) It's not hyperbole to say that New Orleans is one of the greatest cities on the planet in which to celebrate. If you enjoy good food, wine, beer, cocktails and music, it is hard to go wrong. Here are some tips for making the best of a trip down here. This isn't a comprehensive list of the best places to eat and drink. It's a handy cheat sheet for anyone coming to watch the 49ers and the Ravens, or just coming to enjoy our insanity.
Blogs : Mixed Case: Opinion and Advice
A study says three firms account for 51.5 percent of U.S. wine sales, but the diversity of wine depends mostly on where you shop
Posted: January 8, 2013 By Mitch Frank
Whether you find it wonderful or intimidating, we can all agree wine's variety is plentiful. Well, maybe not. A recent study asked: Who owns all those brands on the store shelves? Is wine really a business of thousands of small family wineries, or is it just as corporate as spirits and soda?
Blogs : Mixed Case: Opinion and Advice
Blind tastings can be a perfect way to embarrass yourself, but they can also expand your wine horizons
Posted: January 3, 2013 By Mitch Frank
Everyone at my end of the table thought we knew what the wine was. We were all wrong.
The object of our confusion was a bottle sitting a few feet away, covered in a sheath of tartan wrapping paper. We all had some of the wine in our glasses. A few of my friends thought it was a California red, maybe from Sonoma County. Ron was pretty sure there was Cabernet Franc in it, thanks to a taste of tobacco leaf. I tasted it too, but I thought the wine was from France—maybe a Right Bank Bordeaux made from Merlot and Cab Franc.
Bryant, the charming (and apparently devious) friend who brought the wine, unwrapped the bottle. Inside was the gift of humiliation—a bottle of Boekenhoutskloof Syrah Coastal Region 2009—from South Africa.
Welcome to wine's most humbling game—the blind tasting.
Dec. 31, 2012 - Jan. 15, 2013 Issue : Features
Posted: December 31, 2012 By Mitch Frank
Dec. 31, 2012 - Jan. 15, 2013 Issue : Features
Posted: December 31, 2012 By Mitch Frank
Dec. 31, 2012 - Jan. 15, 2013 Issue : Features
Posted: December 31, 2012 By Mitch Frank
Dec. 31, 2012 - Jan. 15, 2013 Issue : Features
Posted: December 31, 2012 By Augustus Weed, Mitch Frank, Tim Fish, Alison Napjus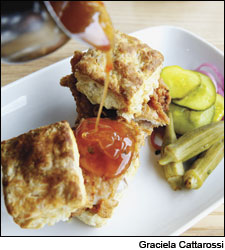 Posted: December 17, 2012 By Mitch Frank
Posted: December 15, 2012 By Mitch Frank
Dec. 15, 2012 Issue : Features
Francesco Ricasoli gave up a career in photography to save his family's historic Chianti estate
Posted: December 15, 2012 By Mitch Frank