Dec. 31, 2012 - Jan. 15, 2013 Issue : Features
Posted: December 31, 2012 By Mitch Frank
Dec. 31, 2012 - Jan. 15, 2013 Issue : Features
Posted: December 31, 2012 By Mitch Frank
Dec. 31, 2012 - Jan. 15, 2013 Issue : Features
Posted: December 31, 2012 By Mitch Frank
Dec. 31, 2012 - Jan. 15, 2013 Issue : Features
Posted: December 31, 2012 By Augustus Weed, Mitch Frank, Tim Fish, Alison Napjus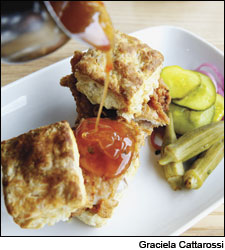 Posted: December 17, 2012 By Mitch Frank
Posted: December 15, 2012 By Mitch Frank
Dec. 15, 2012 Issue : Features
Francesco Ricasoli gave up a career in photography to save his family's historic Chianti estate
Posted: December 15, 2012 By Mitch Frank
Nov. 30, 2012 Issue : Features
South Florida's playground balances cosmopolitan cuisine with casual dining
Posted: November 30, 2012 By Mitch Frank
Nov. 30, 2012 Issue : Features
Consultant Philippe Cambie pushes himself to the edge to make outstanding wine
Posted: November 30, 2012 By Mitch Frank
Blogs : Mixed Case: Opinion and Advice
Winemaking consultants are neither mercenaries nor miracle workers
Posted: November 29, 2012 By Mitch Frank
Is it possible to make 62 different wines, from different vineyards, and have each one taste not just outstanding but also distinctive?
Philippe Cambie is the top winemaking consultant in Châteauneuf-du-Pape—he works for 25 wineries in the appellation. He also has 37 other clients, mostly in the Southern Rhône Valley, but also in the Languedoc (where he grew up), Provence, Corsica, Spain and even Macedonia. His wines routinely score outstanding and classic in Wine Spectator's blind tastings. I profiled Cambie in our Nov. 30 issue and found him to be a warm, friendly, complex man. Watching him interact with his clients was fascinating.
But is it such a good idea for one man to produce wines for 62 clients?