Blogs : Mixed Case: Opinion and Advice
Spain's dynamic young winemakers know there's a fine line between respecting tradition and being enslaved by it
Posted: August 30, 2012 By Mitch Frank
When Telmo Rodriguez and Pablo Eguzkiza saw the big, juicy clusters of Garnacha grapes hanging on the vines in their Las Beatas vineyard, they were tempted to kill their vineyard manager. Except he was already dead.
Rodriguez is one of Spain's best known winemakers today. He grew up at the historic winery Remelluri in Rioja, but left in 1994 when his father refused to let him innovate. He partnered with Eguzkiza, a fellow Basque he had met while studying enology in Bordeaux. Together they began searching for old forgotten vineyards no one had bothered to tear up in under-appreciated regions of Spain—and in the 1990s, Spain had a lot of under-appreciated regions.
Today they make wine in nine appellations. When they expand to a new place, they always hire a young enologist to help them make the wine and an old grower to manage the vineyards. "These old guys, they remember how things were done before viticulture became industrial," says Rodriguez.
"The problem is, there aren't many of them left," adds Eguzkiza. "And you have to keep an eye on them." Old guys, it seems, often think they know better than hotshot winemakers. That was the problem with the Garnacha in Las Beatas.
Blogs : Mixed Case: Opinion and Advice
From hail to heat waves—is wine worth all the worry?
Posted: August 16, 2012 By Mitch Frank
My job doesn't hinge much on nature, and I'm grateful for that. Two years ago, Sonoma winegrowers weathered unseasonably cool weather for much of the summer. With the fruit not getting any riper, some opted to pluck leaves, exposing the grapes to more sunlight. A random heat wave then cooked their grapes on the vine. Who says Mother Nature doesn't have a sense of humor? It's a cruel one.
Wine producers are always boxing a far, bigger, faster opponent. They have to think fast, ready to change course if necessary. They always have to be prepared for the worst. Sometimes, nature is a partner. Other times, she just hits them with a sucker punch.
Blogs : Mixed Case: Opinion and Advice
Commander's 2012 Grand Award shows the city has exchanged average wine programs for creative and committed ones
Posted: August 2, 2012 By Mitch Frank
When I moved to New Orleans in 2010, I was curious where the city's wine programs would be five years after Hurricane Katrina. While the city had always had stars like Brennan's and Emeril's, a lot of restaurants were happy to have average programs, with maybe a little extra French depth. People visited New Orleans for the food.
But I have found a generation of young sommeliers here who reject that idea-and like so much down here now, pre-storm complacency has been rejected in favor of creative wine programs. Commander's Palace has been at the forefront.
Sonoma-based custom crush winery asks shareholders for more money; 'I just don't know if they're going to make it,' said one investor
Posted: June 21, 2012 By Augustus Weed, Mitch Frank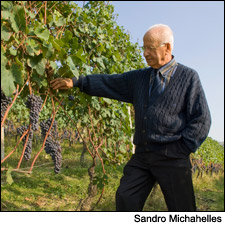 Italian pioneer helped put Piedmont's great wines on the world's tables
Posted: June 1, 2012 By Mitch Frank
Posted: May 31, 2012 By Mitch Frank
Danny Meyer has transformed New York dining while building a $120 million–a-year culinary powerhouse
Posted: May 31, 2012 By Mitch Frank
Bill Foley acquires Napa's Sawyer Cellars and Marlborough-based New Zealand Wine Company
Posted: May 18, 2012 By Mitch Frank
Latour, Mouton-Rothschild and Cheval-Blanc release to mixed reaction; wineries struggle with pricing
Posted: May 15, 2012 By Mitch Frank
Posted: April 30, 2012 By Mitch Frank