Blogs : Mixed Case: Opinion and Advice
Trinchero rolls out a compostable capsule
Posted: May 14, 2013 By Dana Nigro
In my last post, I discussed the dilemma that eco-oriented wineries face when it comes to stoppering their bottles: Corks, which are natural and renewable, or screw-caps and synthetics, which can be more reliable? The same potential conflict between sustainability and efficiency crops up with the foil and plastic capsules that top bottles.
Some wineries eschew the capsule altogether, maybe opting for a little foil or wax top over a natural cork, but then miss out on a branding opportunity. Now, however, a wine-industry supplier has brought a new option to the market.
Blogs : Mixed Case: Opinion and Advice
Allegrini will seal bottles with a new renewable alternative targeted at sustainable, organic and biodynamic wineries
Posted: May 13, 2013 By Dana Nigro
I just want to say one word to you. Just one word. Are you listening?
Bioplastics.
If you were remaking The Graduate in wine country this decade, there might be a great future in bioplastics. When organic, biodynamic and sustainable vintners look to bring their low-impact philosophies to their packaging, they often end up torn over what to do about closures.
Cork is the traditional choice, and it is a renewable material, unlike the alternatives: screw caps are made from mined metals, while synthetic corks are typically derived from petrochemicals. On the other hand, if some of your wine ends up flawed because even a small percentage of corks fail, that's outright waste—not exactly a sustainable practice either.
Global farmer-assistance program extends help to grapegrowers in Argentina, Chile and South Africa
Posted: May 9, 2013 By Dana Nigro
Blogs : Mixed Case: Opinion and Advice
Research finds changing climates may force growers to move to new areas—bumping right into wildlife
Posted: April 9, 2013 By Dana Nigro
If you love wines from the world's most famous regions, or grow them there, you might be worried right now. By 2050, areas suitable for wine grapes could shrink as much as 25 percent in Chile, 51 percent in South Africa's Cape region, 60 percent in California, 68 percent in Mediterranean Europe and 73 percent in parts of Australia, according to a new global analysis published April 8 in the Proceedings of the National Academies of Sciences.
But hey, we wine lovers are adaptable. New parts of the world will become more promising for grapegrowing, particularly at higher elevations and in regions in northern Europe, New Zealand and western North America. The problem? Anyone planting vineyards there will likely be pushing into undeveloped wilderness and habitat for at-risk species, from grizzly bears and gray wolves that live in the Rockies to the giant panda in Central China. Uh-oh.
Blogs : Mixed Case: Opinion and Advice
Oregon researchers uncover creative new uses for a winemaking byproduct. Pomace muffin, anyone?
Posted: March 19, 2013 By Dana Nigro
Last year, California and Washington wineries crushed around 4.5 million tons of wine grapes. That's an awful lot of skins, seeds and stems left over—something like 1.5 million tons. When it comes to reducing waste, many wineries are cutting the use of electricity, fuel, water and packaging. One thing I don't hear a lot about when covering sustainability efforts is post-harvest waste: pomace. Maybe a big, squishy mass of pulp sounds less sexy than an elegant, energy-efficient building, but pomace is no less ripe for innovation.
Jan. 31 - Feb. 28, 2013 Issue : Features
Senior editor Dana Nigro joined Wine Spectator in 1998. She is managing editor of WineSpectator.com and content coordinator for Wine Spectator's digital products.
Posted: February 28, 2013 By Dana Nigro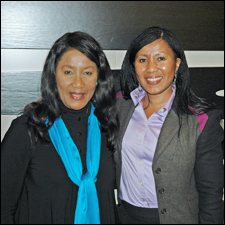 Newly introduced to America, House of Mandela wines will promote Fair Trade and worker education, health and empowerment
Posted: February 27, 2013 By Lizzie Munro, Dana Nigro
News & Features : What We're Drinking Now
Lini Oreste & Figli Lambrusco Emilia Rosso Labrusca 910 NV
Posted: February 1, 2013 By Dana Nigro
Dec. 31, 2012 - Jan. 15, 2013 Issue : Features
Posted: December 31, 2012 By Dana Nigro
Dec. 31, 2012 - Jan. 15, 2013 Issue : Features
Posted: December 31, 2012 By Dana Nigro