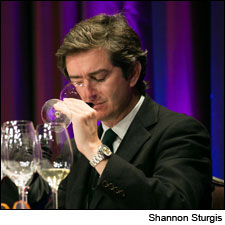 News & Features : News & Features
A look at the best the wine world had to offer last year, with a focus on 2010 vintage reds
Posted: October 22, 2014 By Dana Nigro
Posted: September 30, 2014 By Dana Nigro
Posted: September 30, 2014 By Dana Nigro
Posted: September 30, 2014 By Dana Nigro
Blogs : Mixed Case: Opinion and Advice
Not until you've opened the bottle and decided for yourself
Posted: July 29, 2014 By Dana Nigro
Wine Spectator senior editor Dana Nigro answers the question, How do you know if a wine is still good to drink? (Open it!)
Leading producer of value Pinot Noir and Chardonnay earns certification as a benefits corporation
Posted: June 18, 2014 By Dana Nigro
Posted: May 31, 2014 By Dana Nigro
County growers and vintners set ambitious five-year goal, but it will take much work
Posted: May 31, 2014 By Dana Nigro
Blogs : Mixed Case: Opinion and Advice
A green style author, designer and merchandiser takes on the category
Posted: April 22, 2014 By Dana Nigro
Danny Seo believes that organically grown wines still have an image problem among a vast swath of Americans. He thinks he can help. If you don't know Danny, he's a boyishly personable former editor of Organic Style magazine who has positioned himself as an expert on living green stylishly and affordably with his Simply Green, Upcycling and Conscious Style Home books, "Do Just One Thing" syndicated newspaper tips, TV appearances on The Today Show and Dr. Oz and his own line of eco-chic housewares. Now he's adding wine to his portfolio.
Seo admits to knowing little about wine except what he likes. During a showcase last year for his upcoming new product lines, he either had the self-deprecating charm to act nervous about speaking to Wine Spectator or was a bit uncomfortable at having to field questions without his wine partner, Mike Votto of Connecticut-based Votto Vines Importing. "I'm not a winemaker. I'm not going to pretend I'm a Real Housewife," Seo quipped. "I don't want to pretend I'm out at the vineyard crushing grapes." What he does, Seo said, is work with partners who are experts in the field, sourcing the products.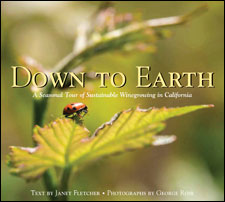 Blogs : Mixed Case: Opinion and Advice
California growers show off the benefits and beauty of working in environmentally and socially responsible ways
Posted: April 1, 2014 By Dana Nigro
Sustainability never looked so good as in Down to Earth, an informative new coffee-table book for wine lovers that's packed with enticing photography of vineyards full of flowering plants, beautiful birds, lush grapes, adorable weed-grazing sheep and goats, and the people who farm these plots.
Created to showcase the work of the California Sustainable Winegrowing Alliance, the book highlights the stories of 15 of the state's winegrowers—representing small and large businesses, families and corporations, green pioneers like Bonterra and newer converts.