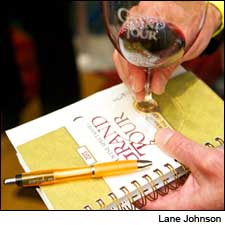 Wine Spectator's 12th annual tasting gathers top wines from around the globe
Posted: April 25, 2013 By Tim Fish
Blogs : Exploring Wine with Tim Fish
When it comes to bang for the buck, Evodia Garnacha leaves the Golden State in the dust
Posted: April 24, 2013 By Tim Fish
A good $10 bottle of red is not easy to find anymore. It's funny how people get excited about a great bargain, whether 10 bucks is all they can afford or they're buying it by the case for a barbecue. California isn't a lot of help. Too many of the reds selling for $10 or less aren't worth a spit.
Why can't more wine regions—particularly California—make wines like Altovinum's Evodia Old Vines Garnacha Calatayud 2011? It has lively raspberry aromas with hints of lead pencil and grilled herb plus flavors that are lively and ripe, but balanced with minerally acidity. The suggested retail is $10, but it often sells for less. I gave it 88 points, non-blind, on the Wine Spectator 100-point scale.
Blogs : Exploring Wine with Tim Fish
Mike and Kendall Officer finally have a winery of their own to call home
Posted: April 17, 2013 By Tim Fish
It was time they had their own place. After 15 years of toiling in a warehouse custom-crush facility in Santa Rosa, Calif., Mike and Kendall Officer, owners of Carlisle Winery, have bought a winery in Russian River Valley.
They closed a deal yesterday on Robert Mueller's winery on Starr Road west of Windsor. The facility is approved to produce up to 10,000 cases annually, and while nearly 21 acres of land are included in the sale, there are no vineyards. Officer declined to reveal the purchase price.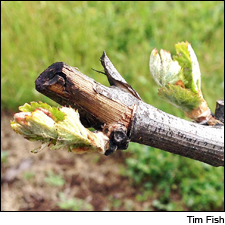 Blogs : Exploring Wine with Tim Fish
Despite last week's rainstorm, California's vineyards are getting dry
Posted: April 10, 2013 By Tim Fish
It has been dry in California's winegrowing regions the past three months, approaching records in some areas, so the inch of rain that fell on Napa and Sonoma last week was welcome.
But it was just a drop in an empty bucket. The Santa Rosa newspaper reports that precipitation in the area from January through March was just below 4 inches, the smallest amount of rain recorded for that period in 72 years. Budbreak has been delayed in some vineyards, but frost is still a concern thanks to the chilly spring, so the early drought hasn't made vintners nervous … yet.
Blogs : Exploring Wine with Tim Fish
How to survive April 15, whether it's an audit or a refund
Posted: April 3, 2013 By Tim Fish
I'm working on my taxes this weekend, so I'm not sure whether I'll be in the mood to celebrate or lash myself for my pitiful fiscal skills. I suspect it will be the lashing, but I'm thinking positive.
Whether you'll be toasting victory or wallowing in defeat over your 2012 tax returns, I suggest that you arm yourself with the appropriate bottle. So it's time for my second annual Surviving Tax Time Wine Tips.
If you owe The Man this year, I feel for you, but I also have a few frugal recommendations … as well as some ideas for splurging. All of them are widely available and should be on shelves near you.
Blogs : Exploring Wine with Tim Fish
Very good wines for $25 or less are ripe for the picking
Posted: March 20, 2013 By Tim Fish
For every three bottles of wine opened in America, two come from California. (Well, for statistic nitpickers, it's almost two.) That tells you how important the Golden State is to U.S. wine drinkers, especially when it comes to bottles that sell for $25 or less, which make up the lion's share of those sales.
That's one reason Wine Spectator takes values seriously. Consider my story "Golden State Values" in the April issue of the magazine, in which I combed through recent tastings and found more than 100 California wines that offer quality at a fair price. Each scored 85 points or higher on our 100-point scale, and none costs more than $25 a bottle.
Blogs : Exploring Wine with Tim Fish
You'd be surprised how many films and TV shows have used California's wine regions as a backdrop
Posted: March 6, 2013 By Tim Fish
It seems like I've driven all over Sonoma, Napa and Mendocino counties the past few weeks. We're busy this time of year researching stories for the summer issues, and there always seems to be a vineyard to visit or a winemaker worth knowing better.
I may be in a hurry to get where I'm going, but I try not to take the beauty of wine country for granted. It's like something you've seen in a movie, which of course you probably have. California's wine regions have been featured in a surprising number of Hollywood films and TV shows over the years.
Jan. 31 - Feb. 28, 2013 Issue : Features
Associate editor Tim Fish has been with Wine Spectator since 2001. Based in California, he tastes the wines of that state, focusing on Merlot and Zinfandel.
Posted: February 28, 2013 By Tim Fish
Blogs : Exploring Wine with Tim Fish
The longtime Turley winemaker will focus on his own winery, Failla
Posted: February 27, 2013 By Tim Fish
Zinfandel lovers won't be happy to hear that winemaker Ehren Jordan has left Turley Wine Cellars after 18 years, but if you've followed Jordan and the impressive work he has done at his own winery, Failla, it should come as no surprise.
"Most people think Helen is still making the wine anyway," Jordan laughed, referring to Turley's short-tenured first winemaker, Helen Turley, the sister of owner Larry Turley.
In the past two decades, Jordan and Larry Turley together crafted what I think are some of California's most impressive and iconic Zinfandels. You'll find Turley wines on the best restaurant wine lists in the country. They are full-flavored, powerful yet refined, and express the distinctive character of Zin and the classic old vineyards from which they come, like Hayne in Napa Valley, Ueberroth in Paso Robles and Dogtown in Lodi.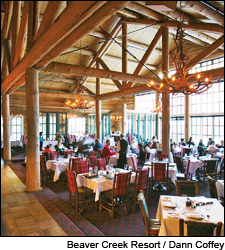 A new generation of restaurants arrives at this Colorado resort town
Posted: February 25, 2013 By Tim Fish