Blogs : Exploring Wine with Tim Fish
Very good wines for $25 or less are ripe for the picking
Posted: March 20, 2013 By Tim Fish
For every three bottles of wine opened in America, two come from California. (Well, for statistic nitpickers, it's almost two.) That tells you how important the Golden State is to U.S. wine drinkers, especially when it comes to bottles that sell for $25 or less, which make up the lion's share of those sales.
That's one reason Wine Spectator takes values seriously. Consider my story "Golden State Values" in the April issue of the magazine, in which I combed through recent tastings and found more than 100 California wines that offer quality at a fair price. Each scored 85 points or higher on our 100-point scale, and none costs more than $25 a bottle.
Blogs : Exploring Wine with Tim Fish
You'd be surprised how many films and TV shows have used California's wine regions as a backdrop
Posted: March 6, 2013 By Tim Fish
It seems like I've driven all over Sonoma, Napa and Mendocino counties the past few weeks. We're busy this time of year researching stories for the summer issues, and there always seems to be a vineyard to visit or a winemaker worth knowing better.
I may be in a hurry to get where I'm going, but I try not to take the beauty of wine country for granted. It's like something you've seen in a movie, which of course you probably have. California's wine regions have been featured in a surprising number of Hollywood films and TV shows over the years.
Jan. 31 - Feb. 28, 2013 Issue : Features
Associate editor Tim Fish has been with Wine Spectator since 2001. Based in California, he tastes the wines of that state, focusing on Merlot and Zinfandel.
Posted: February 28, 2013 By Tim Fish
Blogs : Exploring Wine with Tim Fish
The longtime Turley winemaker will focus on his own winery, Failla
Posted: February 27, 2013 By Tim Fish
Zinfandel lovers won't be happy to hear that winemaker Ehren Jordan has left Turley Wine Cellars after 18 years, but if you've followed Jordan and the impressive work he has done at his own winery, Failla, it should come as no surprise.
"Most people think Helen is still making the wine anyway," Jordan laughed, referring to Turley's short-tenured first winemaker, Helen Turley, the sister of owner Larry Turley.
In the past two decades, Jordan and Larry Turley together crafted what I think are some of California's most impressive and iconic Zinfandels. You'll find Turley wines on the best restaurant wine lists in the country. They are full-flavored, powerful yet refined, and express the distinctive character of Zin and the classic old vineyards from which they come, like Hayne in Napa Valley, Ueberroth in Paso Robles and Dogtown in Lodi.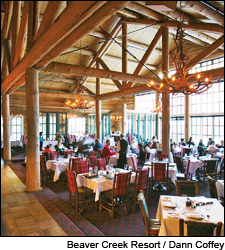 A new generation of restaurants arrives at this Colorado resort town
Posted: February 25, 2013 By Tim Fish
Blogs : Exploring Wine with Tim Fish
Here's a full parade of my pet peeves with the world of vino
Posted: February 20, 2013 By Tim Fish
My birthday isn't far off and maybe I'm just getting ornery in my old age, but I've been thinking about my wine pet peeves lately. Wine Spectator editors pondered theirs in the Jan. 31 - Feb. 28, 2013 issue of the magazine but I left out a few of mine. Here's a fleshed out, even crankier list.
Blogs : Exploring Wine with Tim Fish
Annual San Francisco event shows the versatility of Zin
Posted: February 6, 2013 By Tim Fish
They may have pulled out a toupee's worth of hair during harvest 2011, but California Zinfandel producers have been telling me for months that the 2011s are much better than they expected. Of course, winemakers always say that after a difficult vintage because, eventually, they have to sell the wine, so I generally take it with a grain of salt.
But as the annual Zinfandel Advocates & Producers (ZAP) Festival in San Francisco on Saturday showed, they weren't stretching the truth this time. The 2011 Zinfandels are lovely wines in general: fresh, floral and elegant, with crisp acidity and modest levels of alcohol. Those who love to bash Zinfandels as fruit-bomb monsters have nothing to complain about with the 2011s.
Blogs : Exploring Wine with Tim Fish
After years of herding cats, the county may be on the verge
Posted: January 30, 2013 By Tim Fish
The wine regions of Sonoma County don't play well together.
It has been that way since I can remember and I've lived there for 25 years. Being a stubborn bastard is a rich tradition in Sonoma County for some reason. I think it dates to those grumpy old Italian farmers who spawned the local wine industry. Everything had to be their way, even if they didn't know what the hell they were talking about.
Sonoma County's American Viticultural Areas (AVAs) aren't much different. Each region has been so busy promoting itself that the big picture is fuzzy. What brings this up is a new effort by Sonoma Valley Vintners and Growers Alliance (SVVGA) to rebrand Sonoma Valley—the area in the southeastern part of the county.
Blogs : Exploring Wine with Tim Fish
Revitalized Buena Vista's first releases are promising for wine and history lovers
Posted: January 23, 2013 By Tim Fish
The list of California wineries that reliably produce a good range of tasty values has been growing short for years, but there's a new player now. Well, "new" is misleading since the producer in question is Buena Vista, the oldest commercial winery in the state.
Yet in nearly every sense Buena Vista is a new player, and is now releasing a promising lineup of very good wines selling for $25 and less. For those of us who have watched what the historic Sonoma winery has gone through during the past 25 years, it's a welcome development.
Since 2001 alone Buena Vista has been through five owners. That's right, five. That's a recipe for wine disaster, but the owner now is Boisset Family Estates, a major wine player in Burgundy that's reinvigorating a number of California wineries.
Bill Price, whose investments include Kosta Browne and Kistler, buys the 138-acre site for more than $13 million
Posted: January 23, 2013 By Tim Fish