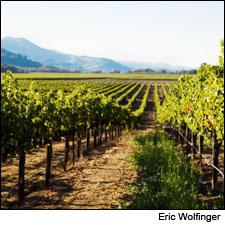 News & Features : Tasting Highlights
New reviews of festive bubblies from California
Posted: December 8, 2014 By Tim Fish
Nov. 30, 2014 Issue : Tasting Reports
While the 2011s disappoint, the arriving 2012s mark a rich return to form
Posted: November 30, 2014 By Tim Fish
Blogs : Exploring Wine with Tim Fish
Why do so many people make holiday wine so complicated?
Posted: November 19, 2014 By Tim Fish
Wine people overthink Thanksgiving. Just chill.
My advice is to put out a spread of wine, a bottle of this and that, so friends and family can experiment themselves as they eat. Below are a few of my current favorites worth seeking out.
Nov. 15, 2014 Issue : Features
How an Englishman carved a great winery out of a California mountain
Posted: November 15, 2014 By Tim Fish
Blogs : Exploring Wine with Tim Fish
Go on a quest to find your sweet spot
Posted: November 12, 2014 By Tim Fish
Twenty-five bucks is my sweet spot when it comes to buying wine. I don't expect miracles at $25. At that retail price, a bottle isn't a splurge, but it still has to deliver in the quality department.
These are bottles that wine geeks routinely open during the week and casual drinkers keep for the weekend. A sweet-spot wine, for me, should show balance and persistence, varietal correctness and good complexity. A sense of place and a distinctive personality are highly valued, but not a deal breaker if absent.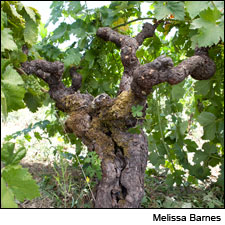 News & Features : Tasting Highlights
New reviews of outstanding wines from the bold 2012 vintage
Posted: November 3, 2014 By Tim Fish
Posted: October 31, 2014 By Tim Fish
With harvest just days away, vintners assessed damage and began cleaning up
Posted: October 31, 2014 By Tim Fish, MaryAnn Worobiec, Augustus Weed
Blogs : Exploring Wine with Tim Fish
After two years on hiatus, top Sonoma restaurant reboots in a new locale
Posted: October 29, 2014 By Tim Fish
Cyrus was Sonoma County's top restaurant when it closed two years ago. The timing was ironic, since Healdsburg's dining scene in 2012 was almost red hot, a fire that Cyrus helped ignite when it opened in 2005.
Partners Nick Peyton and Douglas Keane always said Cyrus was only on hiatus, and now the reboot is officially in the works. Sorry, reservations aren't being accepted yet. You'll have to wait until 2016. That's a long time, but considering what Keane, Peyton and their investors have in mind, it's just around the corner.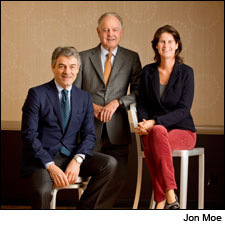 News & Features : News & Features
Super Tuscans Tignanello and Solaia redefined Italian wine
Posted: October 21, 2014 By Tim Fish