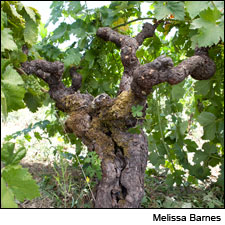 News & Features : Tasting Highlights
New reviews of outstanding wines from the bold 2012 vintage
Posted: November 3, 2014 By Tim Fish
Posted: October 31, 2014 By Tim Fish
With harvest just days away, vintners assessed damage and began cleaning up
Posted: October 31, 2014 By Tim Fish, MaryAnn Worobiec, Augustus Weed
Blogs : Exploring Wine with Tim Fish
After two years on hiatus, top Sonoma restaurant reboots in a new locale
Posted: October 29, 2014 By Tim Fish
Cyrus was Sonoma County's top restaurant when it closed two years ago. The timing was ironic, since Healdsburg's dining scene in 2012 was almost red hot, a fire that Cyrus helped ignite when it opened in 2005.
Partners Nick Peyton and Douglas Keane always said Cyrus was only on hiatus, and now the reboot is officially in the works. Sorry, reservations aren't being accepted yet. You'll have to wait until 2016. That's a long time, but considering what Keane, Peyton and their investors have in mind, it's just around the corner.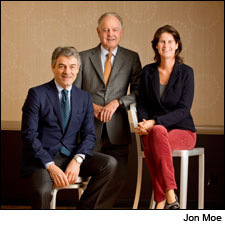 News & Features : News & Features
Super Tuscans Tignanello and Solaia redefined Italian wine
Posted: October 21, 2014 By Tim Fish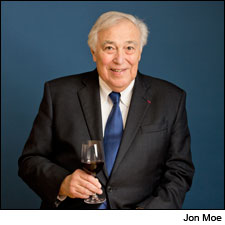 News & Features : News & Features
The man who transformed Château Lynch Bages gives a history lesson with his classic 2000 Bordeaux
Posted: October 20, 2014 By Tim Fish
With harvest winding down, vintners are getting a better idea of what August's quake inflicted
Posted: October 15, 2014 By Tim Fish
Blogs : Exploring Wine with Tim Fish
Sir Peter Michael builds a lasting legacy in Sonoma's Knights Valley
Posted: October 15, 2014 By Tim Fish
One of the occasional benefits of writing about wine is the opportunity to interview someone who's famous for something other than wine. Take actor and vintner Dan Aykroyd for example. He was so down to earth I could have chatted about Saturday Night Live for hours. The same with John Lasseter of Pixar and his classic animated movies. I was more interested in asking film director Francis Ford Coppola about The Conversation than his Godfather films. But my job was to talk wine, so I stayed focused during the interviews.
I had a similar experience with Sir Peter Michael, who I profile in the Nov. 15 issue and who is also being honored as the winner of this year's Wine Spectator Distinguished Service Award.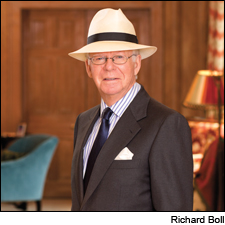 The native Londoner and early Silicon Valley entrepreneur has produced outstanding wines for 24 years
Posted: October 14, 2014 By Tim Fish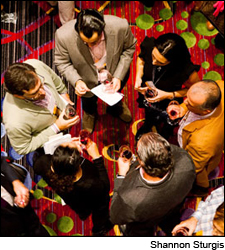 Senior editors Harvey Steiman and Tim Fish with tips on how to approach a a diverse walkaround tasting
Posted: October 6, 2014 By Harvey Steiman, Tim Fish