Dec. 31, 2014 Issue : Features
Posted: December 31, 2014 By Tim Fish
Blogs : Exploring Wine with Tim Fish
The Golden State offers quality and value for your seasonal celebration
Posted: December 17, 2014 By Tim Fish
The top sparkling wines from the Golden State are rich with bright California fruit, but layer it with lively acidity. Consumers will also find great value. Look for my complete American sparkling wine report next summer, but for now, here are the California bubblies that impressed me most in 2014.
Posted: December 15, 2014 By Tim Fish
Blogs : Exploring Wine with Tim Fish
Plus a few winemaker friends pick their favorites of the year
Posted: December 10, 2014 By Tim Fish
There just aren't enough days in the year to drink all the good wine. Wine Spectator's Top 100 of 2014 is always my go-to list, but I also have personal favorites. They aren't necessarily the highest-rated, but these wines left an impression with me for all sorts of reasons—the mood I was in, the people I was with and the food I was eating. Some I tasted blind, others I didn't.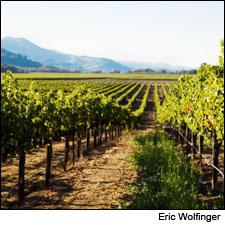 News & Features : Tasting Highlights
New reviews of festive bubblies from California
Posted: December 8, 2014 By Tim Fish
Nov. 30, 2014 Issue : Tasting Reports
While the 2011s disappoint, the arriving 2012s mark a rich return to form
Posted: November 30, 2014 By Tim Fish
Blogs : Exploring Wine with Tim Fish
Why do so many people make holiday wine so complicated?
Posted: November 19, 2014 By Tim Fish
Wine people overthink Thanksgiving. Just chill.
My advice is to put out a spread of wine, a bottle of this and that, so friends and family can experiment themselves as they eat. Below are a few of my current favorites worth seeking out.
Nov. 15, 2014 Issue : Features
How an Englishman carved a great winery out of a California mountain
Posted: November 15, 2014 By Tim Fish
Blogs : Exploring Wine with Tim Fish
Go on a quest to find your sweet spot
Posted: November 12, 2014 By Tim Fish
Twenty-five bucks is my sweet spot when it comes to buying wine. I don't expect miracles at $25. At that retail price, a bottle isn't a splurge, but it still has to deliver in the quality department.
These are bottles that wine geeks routinely open during the week and casual drinkers keep for the weekend. A sweet-spot wine, for me, should show balance and persistence, varietal correctness and good complexity. A sense of place and a distinctive personality are highly valued, but not a deal breaker if absent.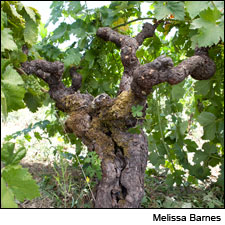 News & Features : Tasting Highlights
New reviews of outstanding wines from the bold 2012 vintage
Posted: November 3, 2014 By Tim Fish