Blogs : Exploring Wine with Tim Fish
The quintessential American wine is poised for a comeback thanks to a group of dedicated winemakers
Posted: May 29, 2013 By Tim Fish
You've missed a lot if you haven't followed Zinfandel the past few years. A quiet revolution has been going on in California, as a group of Zinfandel firebrands are raising the bar on quality. It's something I've written about as far back as 2009, but it's finally seeing fruition.
I explore the trend more thoroughly in "Zinfandel Renaissance," part of the cover package for the June 30 issue of Wine Spectator. The cult favorite and distinctly Californian wine just may be poised for a long-deserved mainstream revival.
Blogs : Exploring Wine with Tim Fish
Summer is finally here, so don't fret over your wines for the holiday
Posted: May 22, 2013 By Tim Fish
Memorial Day is not the time to over analyze your wine. Save that for a first-growth tasting or the next natural wine seminar. Summer is finally here, so just relax and enjoy.
Two words come to mind when I think of Memorial Day wine: easy and familiar. By "easy," I mean user-friendly, a good quaff to share with friends and family that doesn't cost a lot. And "familiar" means an old favorite, a wine you can trust not to disappoint you … or your guests or host.
I can't help you with the "familiar"—to each his own—but I'll share a few of my own later. I'll start with "easy," because there is no shortage of good, tasty value wines on the market right now. Here are 13 wines to kick off summer this Memorial Day weekend.
Blogs : Exploring Wine with Tim Fish
Known for its laid-back atmosphere, this Northern California County offers an authentic wine-and-food experience
Posted: May 15, 2013 By Tim Fish
In California wine country, Mendocino County is out in left field in more ways than one. Not only is it the Golden State's most remote and northernmost wine region, but the attitude there is different compared to places like Sonoma or Santa Barbara. Life moves at a slower pace and the mindset is more unconventional, some might even say eccentric.
It's not quite like any wine region you'll ever visit, which is just what we discovered while researching "A Wine and Food Tour of Mendocino" in the June 15 issue of Wine Spectator.
News Corp CEO purchases estate and winery in Los Angeles' Bel Air area; asking price was $29.5 million
Posted: May 13, 2013 By Tim Fish
Blogs : Exploring Wine with Tim Fish
The new hipster restaurants of Portland, Ore., are emblematic of a national phenomenon
Posted: May 8, 2013 By Tim Fish
I spent a few days in Portland, Ore., last week, and you can't deny it has a distinctive personality, a combo of the laidback vibe of the West Coast with the rusty sneer of an old East Coast port city. It's also one of the hipster capitals of America. Every generation has its young, counter-culture crowd, from the beatniks and hippies to the punks, rappers and beyond, but today's hipsters have created a lifestyle. You may have seen it parodied on The Simpsons and Portlandia on TV.
One thing that distinguishes this new generation of hipsters is its passion for serious food and wine and, in the past five years, dozens of hip restaurants and wine bars targeting that crowd have sprung up in Portland. These aren't places you just stumble upon. They're generally smallish and quirky, hidden away in one of the city's numerous neighborhoods. You have to go looking for them.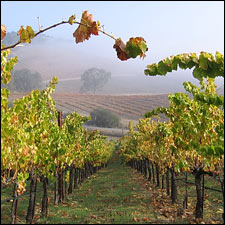 News & Features : Tasting Highlights
New reviews of pink wines perfect for summer sipping
Posted: May 6, 2013 By Tim Fish
Blogs : Exploring Wine with Tim Fish
Don't let the been-there, done-that attitude ruin the experience
Posted: May 1, 2013 By Tim Fish
The curmudgeon gene runs deep in my family, so I'm always trying to look at things through fresh eyes. I was reminded of this last week during that Wine Spectator Grand Tour tasting in San Francisco.
I ran into a group of friends at the tasting and stopped to chat. These folks love wine but have gone to few large tastings. One asked if I was having a good time. Of course, I said, with more than 200 wineries pouring, how could I not be? And yet they were clearly having an even better time, and it wasn't because they were guzzling. They were just excited to be there.
Posted: April 30, 2013 By Tim Fish
April 30, 2013 Issue : Tasting Reports
In California, five wine regions deliver high quality for $25 or less
Posted: April 30, 2013 By Tim Fish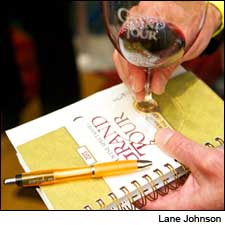 Wine Spectator's 12th annual tasting gathers top wines from around the globe
Posted: April 25, 2013 By Tim Fish