John Lasseter, the creative mind behind Toy Story, has serious fun making wine in Sonoma Valley
Posted: April 30, 2012 By Tim Fish
Blogs : Exploring Wine with Tim Fish
Bringing your own bottle of wine to a restaurant is easy if you know the rules
Posted: April 18, 2012 By Tim Fish
Bringing your own bottle of wine to a restaurant is routine in Napa and Sonoma, but it's not so easy if you live in Ohio or Colorado or nearly half the other states in the union. The alcohol laws in this country are kooky and outdated, but you've probably figured that out by now.
Even where it's legal, restaurateurs have mixed feelings about BYOB, or as it's sometimes called "brown bagging" or corkage. Like it or not, the profit margin is thin in the restaurant business and wine sales help balance the books.
There's a time-honored etiquette to BYOB that newcomers should learn, but even veterans need the occasional refresher course on the subject. Here are a few guidelines to follow.
Former Mendocino Wine Co. executive disputes value of his share in the company
Posted: April 18, 2012 By Tim Fish
Blogs : Exploring Wine with Tim Fish
Wines to open whether you're celebrating or drowning your sorrows
Posted: April 11, 2012 By Tim Fish
There are particular days of the year in which Americans indulge with gusto the need for a drink. New Year's Eve and St. Patrick's Day come to mind, but if ever there was a day that called for either celebration or drowning your sorrows, it's Tax Day, April 17 this year. I'm just getting around to working on my return—I wonder what I'll be doing on Sunday—so I'm not sure whether I'll be toasting victory or defeat. But I believe in being prepared, so I advise all wine lovers to have a good bottle ready no matter how things turn out. I have a few ideas for you, and since these wines are meant to be consumed for Tax Day, I've targeted current releases that don't need cellaring.
Blogs : Exploring Wine with Tim Fish
Arista Winery's McWilliams family buys Russian River's Martinelli Road vineyard
Posted: April 9, 2012 By Tim Fish
One of California's best sweet spots for great old-vine Zinfandel is a remote little valley in western Russian River not far from Forestville. The best-known vineyard there is Jackass Hill, which was first planted in 1889 and is notably bottled by Martinelli Winery.
Just down the hill, and once part of the original Giuseppe Martinelli ranch, is the 18-acre Martinelli Road Vineyard. It's not nearly as well known as Jackass Hill, but Turley bottled it under the Rancho Burro designation for many years, and Mike Officer at Carlisle launched a single-vineyard Martinelli Road in 2009, which I rated 94 points on Wine Spectator's 100-point scale. Last week, the McWilliams family of Arista Winery purchased the vineyard for an undisclosed sum. It sounds like the vineyard is in good hands.
Blogs : Exploring Wine with Tim Fish
Once the upstart, Turley is now one of the undisputed kings of California Zinfandel
Posted: April 4, 2012 By Tim Fish
Back in the mid 1990s, there were three kings of California Zinfandel, the Three Rs we called them: Ravenswood, Ridge and Rosenblum. The snotty young punk in Zintown was Turley. Fast-forward almost 20 years and things have sure changed. The Three Rs continue to make fine Zinfandels—Ridge most frequently—but only Turley is on top of its game.
"
That's my takeaway after tasting through the winery's most-recent releases. I've been drinking Turley since the first vintage, 1993, and, taken as a group, these are some of the best Zinfandels that Turley has made. The group included 2009s from the winery's top single vineyards as well as early-release 2010 from its value-oriented blends.
Posted: March 31, 2012 By Tim Fish, Harris Meyer
Blogs : Exploring Wine with Tim Fish
Americans don't just drink wine at the dinner table
Posted: March 28, 2012 By Tim Fish
Wine needs food" is the customary mantra, but I'm not sure how devoted Americans have ever been to that idea. We've been a country of beer and cocktail drinkers since the end of Prohibition and as wine has become more mainstream in the past 20 years, it has become another alcoholic beverage that's OK to drink by itself.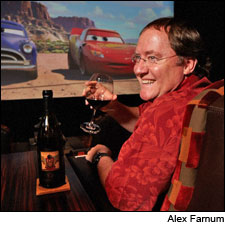 Blogs : Exploring Wine with Tim Fish
John and Nancy Lasseter are making serious wine in Sonoma Valley
Posted: March 21, 2012 By Tim Fish
You may not recognize John Lasseter or even know his name but he's involved in your life, or at least your children's or grandchildren's. He is the mind behind the three Toy Story movies, Cars, Monsters Inc., Finding Nemo, Up! and the soon-to-be-released Brave.
Time magazine named Lasseter one of the 100 most influential people in the world last year. He is the undisputed master of animation and the creative force behind Walt Disney Studios and Pixar Animation. With his wife, Nancy, he is also producing some outstanding wines from their ranch in Sonoma Valley.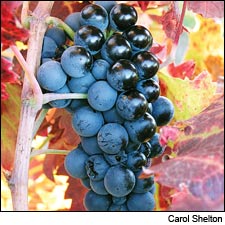 News & Features : Tasting Highlights
New reviews of great red values from across the state in a range of styles
Posted: March 19, 2012 By Tim Fish