Nov. 15, 2012 Issue : Features
The family behind California wine giant Kendall-Jackson looks to the future without its founding force
Posted: November 15, 2012 By Tim Fish
Blogs : Exploring Wine with Tim Fish
The holiday is a time to think of family and drink what you like
Posted: November 14, 2012 By Tim Fish
When I was a kid there was never wine on our Thanksgiving table. This was the Midwest in the late 1960s and if anyone drank anything it was a highball or a beer. Thanksgiving was always at my great-grandfather Lemuel's house and to my memory it seemed like a hundred people were there. Lemuel was not a kid person, even though he sired an imposing litter that spanned two generations. He scared me to death.
Today, Thanksgiving with my family includes plenty of crowd-pleasing wines, especially now that the younger generation is coming of age. Here are some widely available favorites that pair perfectly with Thanksgiving fare.
Web retail giant partners with U.S. wineries; rival Wine.com launches a competing site
Posted: November 8, 2012 By Tim Fish
Blogs : Exploring Wine with Tim Fish
Two of California's best winemakers ponder the future of this year's vintage
Posted: November 7, 2012 By Tim Fish
Winemakers in Northern California are finally catching their breath as harvest 2012 winds to a finish. In the mood to kick back, and perhaps celebrate a little, winemakers Adam Lee of Siduri and Mike Officer of Carlisle had a long lunch last week at Stark's Steakhouse in Sonoma County and let me tag along.
Oct. 31, 2012 Issue : Features
With a commitment to both land and family, and good value in the bottle, Pedroncelli Winery has endured
Posted: October 31, 2012 By Tim Fish
Posted: October 31, 2012 By Tim Fish
Blogs : Exploring Wine with Tim Fish
The 2009 vintage offers both quality and value
Posted: October 24, 2012 By Tim Fish
California Merlot falls into three basic categories: the easygoing values, the expensive Cabernet-wannabes and that big void in the middle that's a stylistic roll of the dice. For my annual Merlot report, I tasted nearly 200 wines, and I give the lowdown in the Nov. 30, 2012, issue of Wine Spectator.
Since the high-tech proletariat seems to throw around the most weight on the Internet, I thought I'd focus today on Merlots that cost between $10 and $20. In years past, that has not always been easy, but the 2009 vintage is so good that even the value Merlots are tasty. (A few early-release 2010s show promise as well.)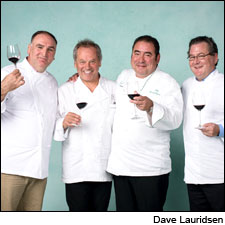 News & Features : News & Features
Hijinks abound as Andrés, Trotter, Puck and Lagasse spar on stage
Posted: October 24, 2012 By Tim Fish
News & Features : News & Features
Showing wines as diverse as the world itself
Posted: October 23, 2012 By Tim Fish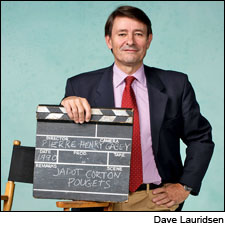 News & Features : News & Features
Pierre-Henry Gagey tells tales about the beauty of Burgundy
Posted: October 23, 2012 By Tim Fish