Bordeaux producer combines Châteaus Magdelaine and Bélair-Monange; believes merger will mean stronger first wine
Posted: September 12, 2012 By James Molesworth
Blogs : Stirring the Lees with James Molesworth
At Araujo, one of Napa's most famous Cabernet Sauvignon vineyards is farmed biodynamically
Posted: September 10, 2012 By James Molesworth
"I was reading an article that was talking about people running naked through the vineyards. It really wasn't a serious article, but that storyline kept me hooked,"' said Bart Araujo, dryly, when I asked him how he got interested in biodynamic farming. "And then I got to the second page, and it mentioned Nicolas Joly and Huët. And also de Vogüé, DRC and Leflaive. And Zind-Humbrecht. I asked myself, well, if it's good enough for those guys, why isn't it good enough for me?"
Araujo, 68, has applied a pragmatic approach to the Eisele vineyard ever since he and his wife, Daphne, purchased it in 1990. They've kept the historical name of the vineyard (named for Milt Eisele, who planted much of it and tended it into his later years before selling it) and improved upon the site's impressive track record for producing some of Napa's best Cabernet Sauvignon, Syrah and Sauvignon Blanc bottlings.
Blogs : Stirring the Lees with James Molesworth
Valeria Huneeus talks science and biodynamics during my visits to Quintessa and Flowers
Posted: September 7, 2012 By James Molesworth
When it comes to biodynamics, I've never been a skeptic. But I haven't embraced it fully either. Much of the farming method's doctrine makes sense, but little has been proven. It's originator, Rudolf Steiner, often spoke in analogies which sound reasonable on the surface but have little proof. It's been left up to those who read his work to interpret and form what has today become biodynamic farming.
So it was with great interest that I got to spend the day with Valeria Huneeus and her team at Quintessa. Huneeus has been the driving force behind California's Quintessa since its founding in 1990. A believer in biodynamics, Huneeus also has a Ph.D. in biochemistry and nutrition, a seemingly perfect balance of science and common sense to help me understand biodynamics a bit more. Along with biodynamic consultant Alan York, winemaker Charles Thomas, viticulturist Michael Sipora and vineyard manager Martin Galvan, we walked the the vineyard of Quintessa yesterday.
Blogs : Stirring the Lees with James Molesworth
Helen Keplinger is making impressive Syrah- and Grenache-based wines in Napa
Posted: September 5, 2012 By James Molesworth
Wine Spectator senior editor James Molesworth is in Napa for the week, and got his visit started with a trip to Stagecoach Vineyard and a tasting of Helen Keplinger's Rhône-style reds.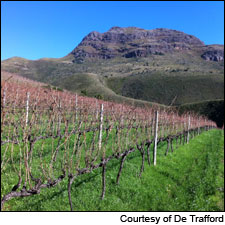 News & Features : Tasting Highlights
New reviews of outstanding South African Syrahs, plus Chenin Blancs, Sauvignon Blancs and more
Posted: August 24, 2012 By James Molesworth
Blogs : Stirring the Lees with James Molesworth
The Bordeaux-based do-it-yourself winery is going strong, while the U.S. side suffers
Posted: August 23, 2012 By James Molesworth
It was with a little bit of sadness that I watched the liquidation of assets at the struggling Crushpad in California in recent weeks. The do-it-yourself by-the-barrel winery was a great way to get people hands-on with winemaking. As a former client (I made my own barrel of Syrah there from the 2007 vintage a few years ago) and as a pro-consumer wine advocate, it was tough to hear how clients were being forced to pay additional fees to get the wines they had already made and paid for.
So, I was interested to hear how Crushpad Bordeaux was doing. The operation is based in the town of Bages behind Château Lynch-Bages, in Pauillac, Bordeaux. It was started in 2009 by Stephen Bolger as a partnership with the California-based Crushpad, but in April of 2012 the Cazes family of Lynch-Bages bought out the California partners and today the operation is completely separate from its U.S. namesake. And apparently thriving, growing at a 50 percent rate in its first three vintages, according to Bolger, Crushpad Bordeaux's CEO.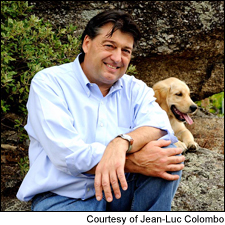 News & Features : Tasting Highlights
New reviews of Rhône Valley white wines that are perfect for the summer, each priced under $20
Posted: August 3, 2012 By James Molesworth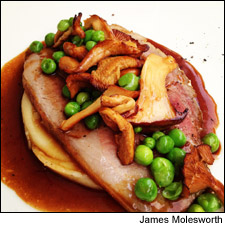 Blogs : Stirring the Lees with James Molesworth
This trip I visited many old favorites, and found some new ones
Posted: July 20, 2012 By James Molesworth
I did get a chance to try a few restaurants during my recent trip through the Rhône Valley, and following are my brief notes. Some have been covered before, but deserve mentioning again.
Blogs : Stirring the Lees with James Molesworth
On my last day in France's Northern Rhône Valley, I tasted through the line-up at Ferraton Père & Fils
Posted: July 18, 2012 By James Molesworth
After tasting through the complete lineup of wines from Michel Chapoutier and his associated labels today, I moved on to the wines of Ferraton Père & Fils.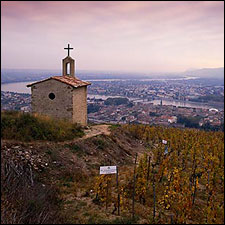 Blogs : Stirring the Lees with James Molesworth
I tasted through a massive number of wines at Michel Chapoutier, from Lucidus to Chapoutier's top cuvées
Posted: July 16, 2012 By James Molesworth
I wrapped up my Rhône trip with what is usually my biggest day when I am in the region: a tasting at chez Michel Chapoutier, covering two vintages of not only the M. Chapoutier wines, but also the wines of Ferraton Père & Fils (I'll get to those later this week), owned by but operated separately from M. Chapoutier, as well as the wines of Pierre-Henri Morel, M. Chapoutier's director.
Coffee: check. A little more coffee: check. Time to taste …
M. Chapoutier director Pierre-Henri Morel presented the wines. Because the tasting included so many wines, I focused primarily on the tasting notes rather than additional commentary, so for additional background be sure to reference blog notes from previous visits, the most recent being May 2011.