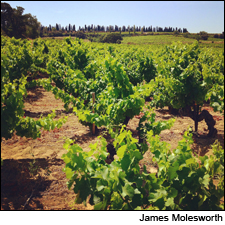 Blogs : Stirring the Lees with James Molesworth
Nicolas Boiron refines his approach without losing his identity
Posted: June 25, 2014 By James Molesworth
On the Route d'Orange, just past Pierre Usseglio as you head by the Châteauneuf itself, sits the family-run Bosquet des Papes.
Nicolas Boiron is the fifth generation of his family to tend vines. After his predecessors started the estate and cobbled together various parcels, his grandfather began planting vines, and his father eventually bottled the domaine's first commercial production in 1966. Nicolas, 43, took over in 2004, and today he oversees the winemaking from the family's 79 acres of vines (covering 42 parcels), the majority in the northern end of Châteauneuf-du-Pape in top lieux-dits such as Pignan, Gardioles, Gardine and Mont-Redon. The majority of the domaine's vines are on clay, with some galets and sand and a very small amount on limestone. Total annual production stands at about 7,000 cases.
Blogs : Stirring the Lees with James Molesworth
What will the recently bottled 2012s from Châteauneuf-du-Pape and Gigondas have in store?
Posted: June 24, 2014 By James Molesworth
After a long overnight and ensuing day of planes, trains and automobiles, I'm back in France's Rhône Valley for the first time since my last visit in November 2013.
This time I'm in the Southern Rhône, and not just for the wines. The weather here in June is idyllic—warm and sunny during the day, but pleasantly cool at night.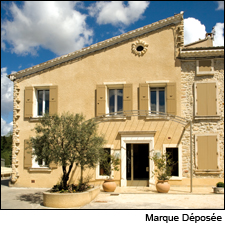 News & Features : Tasting Highlights
New reviews of affordable reds and whites from France
Posted: June 20, 2014 By James Molesworth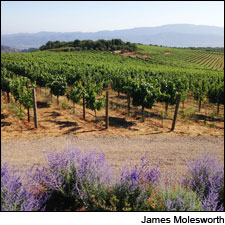 Blogs : Stirring the Lees with James Molesworth
Robert Mondavi's son Tim and granddaughter Carissa have established a new home base on Napa's Pritchard Hill
Posted: June 11, 2014 By James Molesworth
You can tell it's a family business at Continuum. Carissa Mondavi, 37, the newest generation of the storied vintner family, has no official title.
"I don't know how to answer that," she said when I asked her. "All I want to do is tell my dad's story and, in turn, my grandfather's," she added with a hint of wistful pride.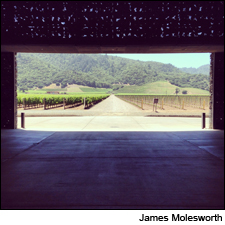 Blogs : Stirring the Lees with James Molesworth
Dominus Estate's terroir shines through in a tasting of the 2012, '10, '04 and '01 vintages
Posted: June 9, 2014 By James Molesworth
I'll admit, I was a little anxious to get to the historic Dominus Estate property and kick the dirt. Sure, the winery is as suave a bit of architecture as you're likely to find. But the dirt is where it's at for me. Today I tasted the 2012, 2010, 2004 and 2001 vintages. Here are my notes.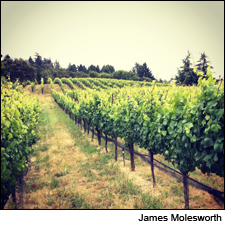 Blogs : Stirring the Lees with James Molesworth
Jamie Kutch is making distinctive Pinot Noirs from Falstaff Vineyard and beyond, stems and all
Posted: June 6, 2014 By James Molesworth
Jamie Kutch is living the life. After cashing out on his Wall Street gig, the native New Yorker picked up and headed west to start his own wine label, which debuted in the 2005 vintage. He had success early and, now in his tenth vintage, he seems to be settling, producing cool-climate Pinot Noirs with a distinctive profile. I tasted through his 2013 Pinots; here are my notes.
Blogs : Stirring the Lees with James Molesworth
Tasting the newest wines from Pax Mahle and his cellar master, Scott Schultz
Posted: June 5, 2014 By James Molesworth
On my first day of winery visits in California, I visited Pax Mahle and tasted through his lineup of recent Wind Gap wines. Following that, we tasted through his Pax and Agharta labels, and then I tasted the Jolie-Laide Wines made by Scott Schultz. Here are my notes on the wines I tasted.
Blogs : Stirring the Lees with James Molesworth
The Wind Gap, Agharta and Pax labels have broadened Mahle's range
Posted: June 4, 2014 By James Molesworth
With three developing labels, Pax Mahle needed some new digs. So he just recently moved his Wind Gap operation (6,000 cases annually and growing) into a gentrified section of old warehouses called the Barlow in Sebastopol, replete with Kosta Browne as neighbor and surrounded by busy hipster coffeeshops and breweries. Along with his 1,200-case Pax label and 1,000-case Agharta label, Mahle is busy.
"But it's still about how much [my wife] Pam and I can handle, without it consuming us," said Mahle, who wants to stay hands-on with all his projects.
Blogs : Stirring the Lees with James Molesworth
A return to California wine country to visit more wineries in Napa and Sonoma
Posted: June 2, 2014 By James Molesworth
I can't help but think of that song from my teenaged years every time I head back to California. Luckily, it's become a regular thing, making an annual visit to the Golden State. Not only getting to attend the Wine Spectator magnum parties in Sonoma and Napa that kick off the summer in wine country, but also getting to make a few stops at wineries.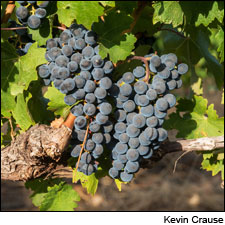 A first look at vintage quality down south, with eyewitness reports from growers and winemakers
Posted: May 23, 2014 By James Molesworth