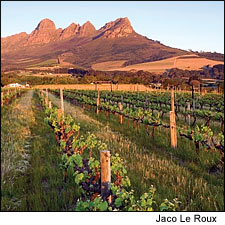 Blogs : Stirring the Lees with James Molesworth
Six years later, a return visit to South Africa's vineyards and wineries
Posted: January 16, 2013 By James Molesworth
I'm loading up on espresso in the Swiss Air lounge, waiting for my flight to Johannesburg and then on to Cape Town. It's my first trip to South Africa since 2007, and it's safe to say things have changed since then.
I'll be traveling around the Cape for the next two weeks, visiting wineries throughout Stellenbosch, the Cape's wine center, as well as Paarl, the frontier-like Swartland, lush verdant sector of Constantia and out to Walker Bay and beyond. They drive on the left side of the road on the Cape, so I've hired a driver. That way I can focus on the vineyards and the people behind the wines, rather than fiddling with a GPS while driving myself. Since I taste in my office, these trips are more to kick the dirt and get to know what goes into the wines, technically and spiritually, via the producers who put the hard work in. So follow along here on the blog for notes on the producers I visit with, along with my Twitter and Instagram feeds for additional snippets, pictures and sometimes witty one-liners. As always, if you have questions, post them here or to my forthcoming blogs and I will try to get back to everyone in due time.
Dec. 31, 2012 - Jan. 15, 2013 Issue : News
Posted: December 31, 2012 By Suzanne Mustacich, James Molesworth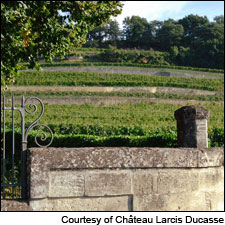 Blogs : Stirring the Lees with James Molesworth
Sitting down with Nicolas Thienpont and David Suire to taste a 19-vintage vertical of Château Larcis Ducasse, back to 1955
Posted: December 26, 2012 By James Molesworth
On my last full day in Bordeaux, the sun finally came out. What a tease. Because instead of kicking the dirt in the vineyards today, I was back inside, sitting down with Nicolas Thienpont and David Suire to taste a vertical of Château Larcis Ducasse. Vertical tastings always make me wish I could taste the old vintages when they're young and the young vintages when they're old, and that was just as true today. The oldest four vintages were all beautiful wines, that showed divergent vintage character while surviving extended cellaring thanks to the force of terroir. The youngest vintages showed how the property is getting a dust off and reemerging to reclaim its position among the elite of St.-Emilion. Here are my scores and tasting notes for 19 vintages of Larcis Ducasse, beginning with the 1955.
Blogs : Stirring the Lees with James Molesworth
A rare glimpse at some yet-to-be blended parcels of Château Palmer with winemaker Thomas Duroux
Posted: December 21, 2012 By James Molesworth
Thomas Duroux has become one of my favorite winemakers in Bordeaux. He likes jazz. He thinks. He experiments. Oh, he also happens to make some compelling wine. Perhaps that's because he takes his time and he doesn't seem to get ruffled by anything. At Château Palmer, the third-growth estate located in the Margaux appellation, he dealt with hail in 2011 that lowered his yields in that and the ensuing 2012 vintage as well, to 2 tons and 1.5 tons per acre, respectively.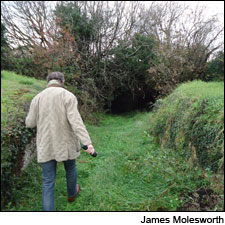 Blogs : Stirring the Lees with James Molesworth
A vine-trimming lesson from Christian Moueix at Trotanoy followed by some cave exploration with Comte Stephan von Neipperg
Posted: December 19, 2012 By James Molesworth
On yet another of Bordeaux's raw, rainy days featuring a knifing wind, Christian Moueix wanted to show me his latest acquisition, a stunning 4.68-acre parcel located right in front of the famed cellar of Le Pin in Pomerol. Later that day, I headed over to meet with Comtes Stephan von Neipperg, owner of châteaus Canon-La Gaffelière, La Mondotte and several others on the Right Bank.
Blogs : Stirring the Lees with James Molesworth
World-renowned consulting enologist Michel Rolland and his wife, Dany, call Château Fontenil home
Posted: December 17, 2012 By James Molesworth
Finally, after 11 straight days of all-day tasting, it was time to get some fresh air. I slammed my laptop closed to punctuate the end of the tasting, put on my vineyard shoes (it's rained steadily since I've been here and the vineyards are muddy) and headed over to Fronsac to get back in touch with terra firma. After all that, my first stop is Fronsac, you ask? Not a first-growth or Sauternes estate?
With 2,000 acres of vines and 71 producers, Fronsac is just a blip in the overall scheme of Bordeaux. It pales in size and reputation to its cross-river neighbor St.-Emilion, for example, and the wines are often overlooked by the marketplace. But there must be something to Fronsac, if Michel and Dany Rolland call it home.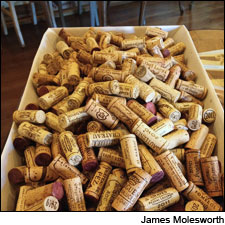 Blogs : Stirring the Lees with James Molesworth
Pessac and St.-Estèphe round out my Left Bank 2010 Red Bordeaux tastings before finishing with the sweet wines of Sauternes
Posted: December 13, 2012 By James Molesworth
I spent the last few days of my 2010 Bordeaux tasting by working through the reds of St.-Estèphe and then Pessac.
The reds from Pessac, with their typically tarry spine and sometimes wild notes of tobacco and ash, were a standout group, with the fruit showing the extra amplitude of the vintage and the structure evident but well-integrated. Branon turned in a very strong showing, as did some of the usual suspects. There really were no disappointments.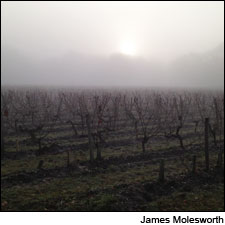 Blogs : Stirring the Lees with James Molesworth
After confirming initial impressions of the 2010 Bordeaux vintage on the Right Bank, I'm working my way through Margaux, Pauillac, St.-Julien and more
Posted: December 10, 2012 By James Molesworth
I'm getting into the meat of my 2010 Bordeaux tasting now, having worked through the Right Bank wines of St.-Emilion (which takes two full days), Pomerol and their various satellite appellations. As mentioned briefly in my last blog, the wines are showing very, very well.
I have started in on the Left Bank now, tasting wines from the Médoc, Graves and Margaux. The highlights so far, though, have come from Pauillac and St.-Julien.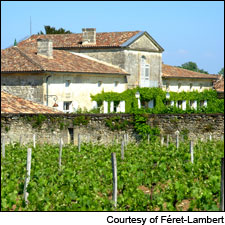 News & Features : Tasting Highlights
New reviews of lesser-known Cabernet- and Merlot-based reds from Bordeaux's potentially classic 2010 vintage
Posted: December 7, 2012 By James Molesworth
Blogs : Stirring the Lees with James Molesworth
With about 700 wines to taste and two weeks to taste them, I hit the ground running in Bordeaux
Posted: December 5, 2012 By James Molesworth
I arrived as scheduled in Bordeaux - just on time for lunch. I like to plan things like that...
My annual in-bottle Bordeaux tasting is easily the biggest and longest single tasting I do. When in my New York office, I taste every day, but perhaps only 20 or 30 wines a day. When I travel in the Rhône, I may taste dozens of barrel samples in a day, but I'm not writing formal notes or reviewing those wines, since they are unfinished, sometimes just lots of pre-blends, and not tasted blind. That makes the Bordeaux tasting unique.