Ready to taste the first wines of 2013? While grapes are growing plump in Europe and North America, the Southern Hemisphere has picked, crushed and fermented this year's crop. Here's a sneak peek at the upcoming vintage.
Posted: August 31, 2013 By Nathan Wesley, Augustus Weed, MaryAnn Worobiec, James Molesworth
Blogs : Stirring the Lees with James Molesworth
Putting a Pinot Noir and a Pinot Gris to the test at home with spicy Thai shrimp and pork
Posted: August 30, 2013 By James Molesworth
Matching wine and food can be a daunting topic for newbie and seasoned wine lovers alike. Sure, there are basic tenets for some folks—red wine with meat, white wine with fish. But those have been largely eroded: How about a white Rhône with pork? Or Pinot Noir with Salmon? In addition, as cuisines from around the world have been popularized and assimilated in American cuisine, food has become more complicated. It's no longer enough to have a steak. Is it grass-fed or corn-fed? Broiled? grilled? And the sides—how about blue potatoes and pan-roasted okra? Suddenly it's head-scratching time when it comes to pulling a bottle.
Because of this, I try not to over festishize wine-and-food matching. Sometimes I might select the wine first and build the meal around that. Other times the meal comes first and I try to fit the wine. But basically I try to avoid conflict between the wine and food while aiming to just drink and eat what I like.
So the other night as Nancy prepped a tray of Thai-style pork and shrimp balls loaded with scallions, cilantro, Chinese black vinegar, soy and the like, I figured a white would do best. I was thinking Alsace.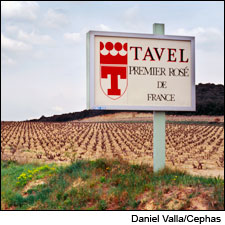 News & Features : Tasting Highlights
New reviews of pink wines from France, each under $20
Posted: August 9, 2013 By James Molesworth
July 31, 2013 Issue : Features
Four new projects demonstrate the far-reaching ambitions of Cape winemakers
Posted: July 31, 2013 By James Molesworth
July 31, 2013 Issue : Features
Posted: July 31, 2013 By James Molesworth
July 31, 2013 Issue : Features
As South Africa reinvents itself, its wineries look to the past as well as to the future
Posted: July 31, 2013 By James Molesworth
June 30, 2013 Issue : Tasting Reports
A difficult growing season results in a very erratic set of wines
Posted: June 30, 2013 By James Molesworth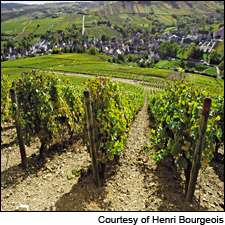 News & Features : Tasting Highlights
Crisp, lively Loire Sauvignon Blancs for summer sipping
Posted: June 28, 2013 By James Molesworth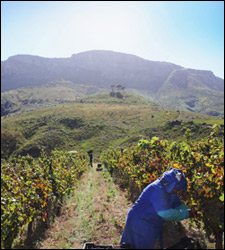 A first look at vintage quality, with eyewitness reports from growers and winemakers
Posted: June 17, 2013 By Nathan Wesley, Augustus Weed, MaryAnn Worobiec, James Molesworth
June 15, 2013 Issue : Features
Reds fare better than whites as France's Loire Valley struggles in 2011
Posted: June 15, 2013 By James Molesworth