Blogs : Stirring the Lees with James Molesworth
Véronique Maret hits the mark in her first solo vintage (though Dad is still hanging around)
Posted: June 30, 2014 By James Molesworth
I finished off a day of visiting some of the town's youngest vignerons (Julien Barrot of Domaine La Barroche and Marie Giraud of Domaine Giraud) with a stop at Domaine de la Charbonnière, where Véronique Maret, just 30, assumed full control of the winemaking in 2012, after starting at the domaine alongside her father, Michel, in 2009.
June 30, 2014 Issue : Tasting Reports
Leading châteaus salvage a pedestrian vintage for reds, while whites and sweet wines excel
Posted: June 30, 2014 By James Molesworth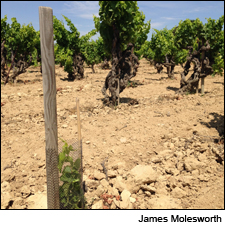 Blogs : Stirring the Lees with James Molesworth
Marie Giraud has steadily piloted her family domaine to the top
Posted: June 27, 2014 By James Molesworth
A semi-regular stop when I'm in the area, you can reference background on Domaine Giraud from my 2011, 2010, 2009 and 2008 blog notes.
Marie Giraud, along with her brother François, has steadily put this family domaine among the elite of Châteauneuf-du-Pape. The pair is hands-on, managing their 62 acres (spread over a staggering 64 parcels) and produce on average 5,000 cases annually.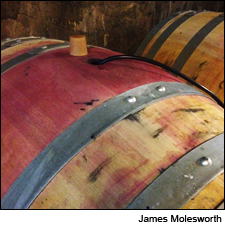 Blogs : Stirring the Lees with James Molesworth
With 10 vintages under his belt, Julien Barrot refines his style
Posted: June 26, 2014 By James Molesworth
When he first started at his family domaine, Julien Barrot (who previously guest blogged for us during a harvest) had short hair and admittedly put a lot of himself into his wines. Now, though still just a young 34, Barrot has let his locks grow long, and he feels he's learned a thing or two over his first 10 vintages at Domaine La Barroche in Châteauneuf-du-Pape.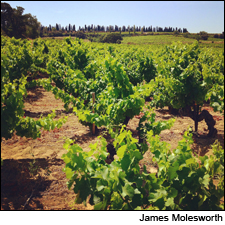 Blogs : Stirring the Lees with James Molesworth
Nicolas Boiron refines his approach without losing his identity
Posted: June 25, 2014 By James Molesworth
On the Route d'Orange, just past Pierre Usseglio as you head by the Châteauneuf itself, sits the family-run Bosquet des Papes.
Nicolas Boiron is the fifth generation of his family to tend vines. After his predecessors started the estate and cobbled together various parcels, his grandfather began planting vines, and his father eventually bottled the domaine's first commercial production in 1966. Nicolas, 43, took over in 2004, and today he oversees the winemaking from the family's 79 acres of vines (covering 42 parcels), the majority in the northern end of Châteauneuf-du-Pape in top lieux-dits such as Pignan, Gardioles, Gardine and Mont-Redon. The majority of the domaine's vines are on clay, with some galets and sand and a very small amount on limestone. Total annual production stands at about 7,000 cases.
Blogs : Stirring the Lees with James Molesworth
What will the recently bottled 2012s from Châteauneuf-du-Pape and Gigondas have in store?
Posted: June 24, 2014 By James Molesworth
After a long overnight and ensuing day of planes, trains and automobiles, I'm back in France's Rhône Valley for the first time since my last visit in November 2013.
This time I'm in the Southern Rhône, and not just for the wines. The weather here in June is idyllic—warm and sunny during the day, but pleasantly cool at night.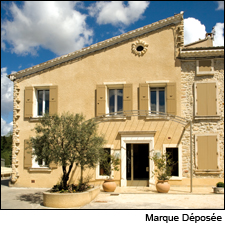 News & Features : Tasting Highlights
New reviews of affordable reds and whites from France
Posted: June 20, 2014 By James Molesworth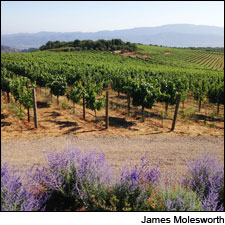 Blogs : Stirring the Lees with James Molesworth
Robert Mondavi's son Tim and granddaughter Carissa have established a new home base on Napa's Pritchard Hill
Posted: June 11, 2014 By James Molesworth
You can tell it's a family business at Continuum. Carissa Mondavi, 37, the newest generation of the storied vintner family, has no official title.
"I don't know how to answer that," she said when I asked her. "All I want to do is tell my dad's story and, in turn, my grandfather's," she added with a hint of wistful pride.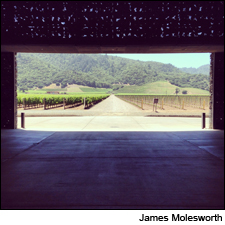 Blogs : Stirring the Lees with James Molesworth
Dominus Estate's terroir shines through in a tasting of the 2012, '10, '04 and '01 vintages
Posted: June 9, 2014 By James Molesworth
I'll admit, I was a little anxious to get to the historic Dominus Estate property and kick the dirt. Sure, the winery is as suave a bit of architecture as you're likely to find. But the dirt is where it's at for me. Today I tasted the 2012, 2010, 2004 and 2001 vintages. Here are my notes.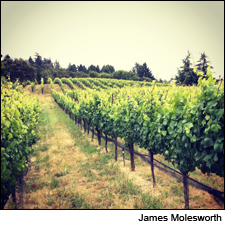 Blogs : Stirring the Lees with James Molesworth
Jamie Kutch is making distinctive Pinot Noirs from Falstaff Vineyard and beyond, stems and all
Posted: June 6, 2014 By James Molesworth
Jamie Kutch is living the life. After cashing out on his Wall Street gig, the native New Yorker picked up and headed west to start his own wine label, which debuted in the 2005 vintage. He had success early and, now in his tenth vintage, he seems to be settling, producing cool-climate Pinot Noirs with a distinctive profile. I tasted through his 2013 Pinots; here are my notes.