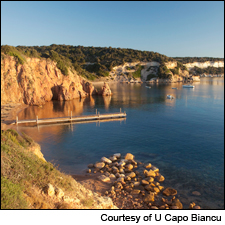 News & Features : Tasting Highlights
New reviews of white, red and rosé bottlings from the Mediterranean island
Posted: July 18, 2014 By James Molesworth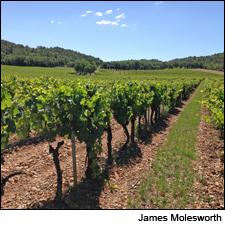 Blogs : Stirring the Lees with James Molesworth
Marc Perrin shows off Château Miraval and its myriad terroirs
Posted: July 16, 2014 By James Molesworth
The Jolie-Pitt & Perrin joint venture has gotten a fair amount of publicity, thanks to its Hollywood A-list owners Brad Pitt and Angelina Jolie. They hooked up with the Perrin family of the Rhône Valley's Château de Beaucastel to help make their rosé and white wine from the Château Miraval estate. The resources of Pitt and Jolie and the viticulture and winemaking expertise of the Perrin family count for a lot. But ultimately the terroir will have its say, and with that in mind, Marc Perrin was eager to show me the dirt and roots behind the project.
Blogs : Stirring the Lees with James Molesworth
A pair of schoolmates starts from scratch
Posted: July 14, 2014 By James Molesworth
Today I visited Hecht & Bannier's Gregory Hecht and François Bannier at their négociant office in Aix-en-Provence to taste their 2013 Provence wines and a recent vertical of their Bandols. Here are my notes.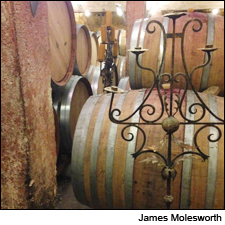 Blogs : Stirring the Lees with James Molesworth
Isabel Ferrando's Châteauneuf domaines remain reference points as her holdings have grown
Posted: July 11, 2014 By James Molesworth
Domaine St.-Préfert and Domaine Ferrando, the joint domaines owned by Isabel Ferrando, have become reference points for red and white Châteauneuf-du-Pape since they were founded in 2002 and 2004, respectively. On this visit, I tasted both the 2012 and 2013 lineups. Here are my notes.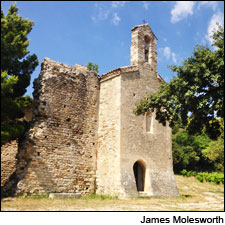 Blogs : Stirring the Lees with James Molesworth
Louis Barruol sets the bar in Gigondas
Posted: July 10, 2014 By James Molesworth
Louis Barruol no longer needs an introduction on this blog. I've visited Château de St.-Cosme regularly for several years, so you can reference background information starting with my most recent entry. This remains the reference-point estate for Gigondas, as well as one of the most dynamic estates in all of the Rhône Valley, south or north. Here are my notes on the 2012 lineup here.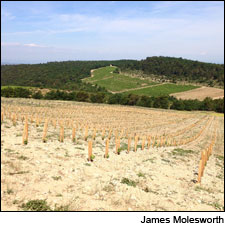 Blogs : Stirring the Lees with James Molesworth
Up in the breezy hills, Nicole Sierra-Rolet's project blossoms
Posted: July 9, 2014 By James Molesworth
The all-star vinification team behind the still relatively nascent Chêne Bleu hasn't changed—Zelma Long has been consulting here since 2008 and Philippe Cambie since its inception. Thomas Oui is the day-to-day enologist while the husband-and-wife team of Jean-Louis and Benedicte Ballucci handles the vineyards, cellar and just about everything else on this sprawling 321-acre estate, which now has 57 acres of vines in production. Here are my notes on the 2011 lineup.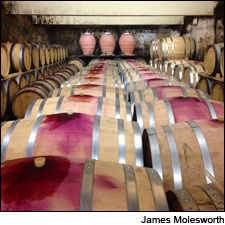 Blogs : Stirring the Lees with James Molesworth
But there's nothing ordinary about this young Rhône domaine
Posted: July 8, 2014 By James Molesworth
There are different ways to create a domaine. Most who start from scratch build up slowly, progressing linearly, either growing in size and/or refining or evolving their style over the years (see: Barrot, Julien or Giraud, Marie). Or you can go about it in a completely different way, experimenting, exploring tangents and basically doing things that people tell you not to do.
"I have people stopping when they see my vineyard and coming to tell me I'm crazy. They say 'You can't do it that way.' And I say, 'Why not?'" said Mounir Saouma.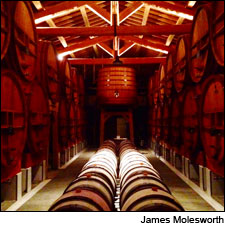 Blogs : Stirring the Lees with James Molesworth
The Perrin family just keeps going and going and going …
Posted: July 7, 2014 By James Molesworth
No introduction needed here. Château de Beaucastel is one of the benchmark estates in Châteauneuf-du-Pape and has been a large presence for a long time in the U.S. market. Here are my tasting notes on the 2012 Beaucastels, tasted with Marc Perrin.
Blogs : Stirring the Lees with James Molesworth
Jean-Paul Daumen shifts his philosophy while maintaining quality
Posted: July 3, 2014 By James Molesworth
The last time I visited with Jean-Paul Daumen, I wrote about how this soft-spoken but very serious vigneron doesn't change much, but instead just quietly cranks out some of the best and most long-lived wines in the AOC. Of course, on this visit, he's now in the midst of quite a bit of change ….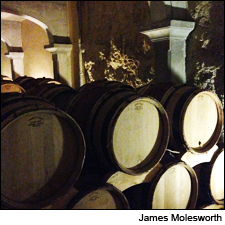 Blogs : Stirring the Lees with James Molesworth
The Coulon brothers of Domaine de Beaurenard bring out the terroir in their Châteauneuf reds and whites
Posted: July 2, 2014 By James Molesworth
I always like to stop in with the brothers Coulon at Domaine de Beaurenard after visiting Clos des Papes. Not only are they right across the street, so I won't be running too late, as tastings with Paul and Vincent Avril can run a little over budgeted time, but they provide a great contrast. Clos des Papes makes one wine, aged in foudre and without new oak, while at Beaurenard there are a few cuvées, and there's a mix of vat, demi-muid and barrel aging, including some new oak.
But don't make the mistake of thinking that Domaine de Beaurenard only makes a merely modernized wine—far from it. The Coulons have been farming biodynamically for a few years now and their wines, while framed by toasty spice notes, drip with plenty of terroir. For background on Frédéric and Daniel Coulon, the good ol' boys of Châteauneuf-du-Pape white wines, you can reference several older posts, starting with the notes from my June 2012 visit.