Blogs : Stirring the Lees with James Molesworth
Sticking my nose into perfume production with an architect-turned-perfumer whose scents carry a tale of time and place
Posted: March 18, 2013 By James Molesworth
Perfume has always intrigued me. And not just for the lilting effect it has when a deftly scented woman draws close. More than that, I've always wondered how difficult it is to create a perfume, and what kind of nose skills one would need. And surely there are parallels to making perfume and tasting wine, since I often find the greatest wines to be defined more by their aromas than their flavors.
So when I was put in touch with Carlos Huber, I smelled a good opportunity to learn a little something,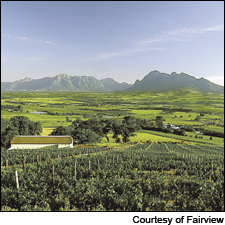 News & Features : Tasting Highlights
New reviews of Sauvignon Blanc, Pinotage and other affordable bottlings from South Africa
Posted: March 8, 2013 By James Molesworth
Jan. 31 - Feb. 28, 2013 Issue : Features
Senior editor James Molesworth has been with Wine Spectator since 1997. He is lead taster for Bordeaux, the Loire and Rhône valleys, New York's Finger Lakes and South Africa.
Posted: February 28, 2013 By James Molesworth
Jan. 31 - Feb. 28, 2013 Issue : News
Posted: February 28, 2013 By Suzanne Mustacich, James Molesworth
Jan. 31 - Feb. 28, 2013 Issue : Tasting Reports
Riesling makes its mark in this New York wine region
Posted: February 28, 2013 By James Molesworth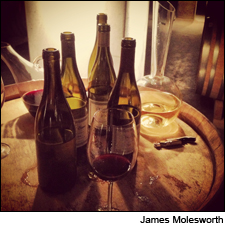 Blogs : Stirring the Lees with James Molesworth
Christophe Durand brings a French attitude to the Cape
Posted: February 25, 2013 By James Molesworth
It's summer in South Africa. I've got a tan and I'm in my element—kicking the dirt amidst the vines and talking to winemakers.
So how fitting is it that after nearly two weeks of of checking out bush vine Chenin Blanc and comparing granite and schist soils, my very last visit her would be to the most Francophile one of the lot, Vins d'Orrance. As I walked down into the dimly lit cellar at the Steenberg winery, a few bottles were standing up on the head of an upturned barrel. It was an SRO tasting, and one right out of any Rhône cellar that I've ever been in.
Opening the bottles was Christophe Durand, 45. Broad-shouldered, Normandy-born and English speaking with a distinct French accent, Durand arrived in South Africa in 1995 while selling Gillet and Darnajou barrels to the local market (his first client was the rugby player-turned-cult Pinot Noir producer Jan Boland Coetzee of Vriesenhof). It was here he met his wife, Sabrina, who is from Durban. Now married 10 years, they work together on Vins d'Orrance, which he started in 2000.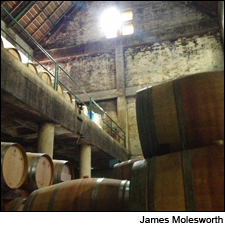 Blogs : Stirring the Lees with James Molesworth
Lars Maack's estate offers some of the Cape's best values in Sauvignon Blanc and Chardonnay
Posted: February 22, 2013 By James Molesworth
Located just next door to Klein Constantia is Buitenverwachting (bay-tun-veer-vak-ting). It's always been one of my favorite South African names, but alas, market pressures have forced them to change their label: Bayten will now be in large font on the labels in the U.S. market, with the winery's historical name shrunk to fine print. I say, "Boo." After so much time with the original label, I would have liked to see them stick it out and not worry about tongue-twisting their customers.
But at least the wine isn't changing. This is still one of the top Sauvignon Blanc producers on the Cape, along with excellent Chardonnay and a characterful Bordeaux blend. Lars Maack, 46, is the owner of this 370-acre property, which has an ample 260 acres of vines. For background, you can reference my notes from my 2007 visit here.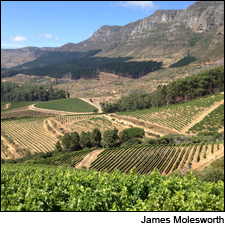 Blogs : Stirring the Lees with James Molesworth
Klein Constantia, one of the Cape's most storied estates, is no stranger to change
Posted: February 21, 2013 By James Molesworth
Klein Constantia is one of the Cape's most historical wine estates. But if may be seeing more change now than it has in its entire history, which dates to its founding in 1685.
The Jooste family, which resurrected the estate in the 1980s, sold in 2011 to a pair of international businessmen, as well as a pair of Bordelais, Hubert de Boüard de Laforest and Bruno Prats, who folded their Anwilka joint venture into the new ownership structure.
Located in the verdant Cape Town suburb of Constantia, which gets considerable rainfall (63 inches annually) and has a lush appearance thanks in part to its many stately homes, Klein Constantia is a 370-acre estate with 200 acres currently under vine. The property produces primarily white wine and production now stands at 33,000 cases, with plans to eventually reach 60,000.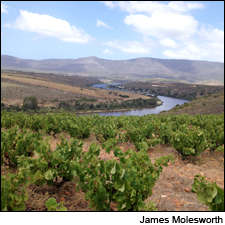 Blogs : Stirring the Lees with James Molesworth
Out to the boonies to see David Trafford's Sijnn project in the remote Malgas Ward
Posted: February 20, 2013 By James Molesworth
The road up to David Trafford's place in Stellenbosch is an adventure. The road out to Sijnn, his second project, in Malgas, is something else entirely. It's a 2.5-hour drive from Walker Bay, with over 45 miles of gravel roads. The constant clanging and thumping of rocks underneath, along the side and occasionally off the windshield of the car drown out any music you might have on the radio.
But of course, it's worth it.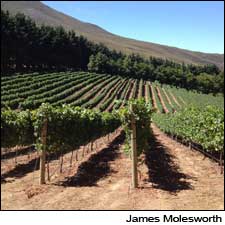 Blogs : Stirring the Lees with James Molesworth
Chardonnay is the main attraction at Ataraxia as owner and winemaker Kevin Grant awaits his Pinot Noir vineyards to mature
Posted: February 19, 2013 By James Molesworth
Continuing the family tree lineage from Hamilton Russell, winemaker and owner Kevin Grant started his own Ataraxia Mountain after leaving Hamilton Russell in 2004, following a 10-vintage run there. Located a 20-minute drive up the valley from HR, at the highest elevation in Hemel-en-Aarde (1,300 feet, versus 600 feet for Hamilton Russell), Ataraxia is located in the newly created Hemel-en-Aarde Ridge ward, a windy site with a convoluted mix of convex and concave hillsides, though the soils are very similar (clay/shale) to what's down below.