Posted: April 30, 2015 By MaryAnn Worobiec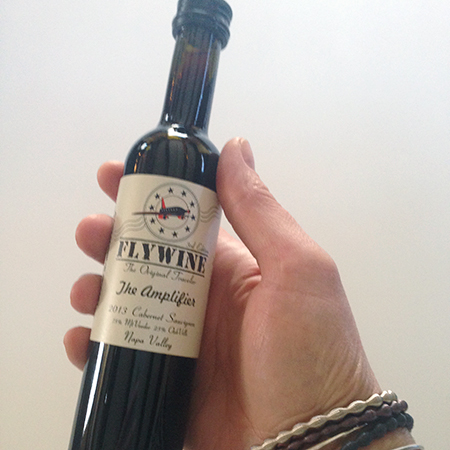 Blogs : Mixed Case: Opinion and Advice
Pocket-size FlyWine proves good wines do come in small packages
Posted: April 14, 2015 By MaryAnn Worobiec
Clear the runway for FlyWine. I've seen versions of single-serving wines before—products like StackTek and Zipz—which remind me more of Jell-O cups than something I want to drink from. FlyWine is an adorable screw-capped miniature wine bottle, promoted as a way to get wine into your carry-on.
Blogs : Mixed Case: Opinion and Advice
A round-up of yesterday's best wine-related jokes and hoaxes
Posted: April 2, 2015 By MaryAnn Worobiec
I haven't been a fan of April Fool's Day since that time my mom told me I had a spider on my shirt. I'm not a prankster, I don't like feeling gullible (who does?), and I typically approach the day with plenty of caution and eye rolls.
But I've softened to April Fool's recently, as it seems to have turned into a day celebrating creative writing and fun marketing. This year, I was prepared to not fall for any tricks, and here are some of my favorite of this year's wine-related April Fool's pranks.
March 31, 2015 Issue : Tasting Reports
Posted: March 31, 2015 By Tim Fish, MaryAnn Worobiec
Blogs : Mixed Case: Opinion and Advice
How do you develop your wine vocabulary? Smell everything
Posted: March 19, 2015 By MaryAnn Worobiec
Looking back now, there were early signs that working for Wine Spectator would be a good job for me. I remember sitting in the junior high–school cafeteria and describing to my friends, in great detail, an amazing meal I had eaten. I was met with deadpan stares. "It was a burger," they reminded me flatly.
Blogs : Mixed Case: Opinion and Advice
Winemaker Jen Beloz faces the challenges (and criticisms) of taking over a beloved brand
Posted: March 3, 2015 By MaryAnn Worobiec
I recently met winemaker Jen Beloz of The Prisoner Wine Company. You've probably heard of the wine, a widely distributed California Zinfandel–based blend with a Francisco Goya etching on the label. It has a huge following.
Thoughtful and energetic, Beloz originally planned to be a marine biologist, but was thrown off course when she first walked into a winery. "The smell of the barrel room got into my soul," she explained. I can relate.
Jan. 31 - Feb. 28, 2015 Issue : Features
Posted: February 28, 2015 By MaryAnn Worobiec, Ben O'Donnell, Esther Mobley
Jan. 31 - Feb. 28, 2015 Issue : Features
Posted: February 28, 2015 By MaryAnn Worobiec, Ben O'Donnell, Esther Mobley
Jan. 31 - Feb. 28, 2015 Issue : Features
Posted: February 28, 2015 By MaryAnn Worobiec, Ben O'Donnell, Esther Mobley
Jan. 31 - Feb. 28, 2015 Issue : People
Actor Patrick Dempsey on how wine fits into his healthy lifestyle
Posted: February 28, 2015 By MaryAnn Worobiec