Posted: May 31, 2013 By James Laube
Blogs : James Laube's Wine Flights
Owner John Wetlaufer has announced that Marcassin will not release its 2008 Pinot Noir due to smoke taint
Posted: May 23, 2013 By James Laube
The summer 2008 wildfires in Sonoma County have claimed another victim: Marcassin Pinot Noir.
The winery has decided not to release its 2008 vintage, it announced in its latest newsletter. "We are passing on the 2008 Pinot Noirs," wrote John Wetlaufer, who owns the Sonoma winery with his wife, winemaker Helen Turley.
Blogs : James Laube's Wine Flights
Wine scores seem to get bigger every year. Are the wines better? Or is something else at play?
Posted: May 15, 2013 By James Laube
Anyone who pays attention to wine ratings knows one thing: Critics are giving more 100-point scores than ever before. Are there really so many more "perfect" wines today than in the past?
It's indisputable that wines are better now than a generation ago. Vineyard management, winery technology, winemaker skill – all have progressed. And as wines have improved, ratings as reflected by scores have risen. Simply put, there are more 90-point wines, those wines of outstanding quality, today than in the past.
Yet there is something else going on. The surge of 100-point ratings is about much more than wine quality. In fact, it has little to do with the wine in the bottle. Awarding a wine a perfect rating is a powerful statement. It brings attention to the wine and the winemaker – and also to the critic.
Blogs : James Laube's Wine Flights
Navarro winery has been selling Pinot Noir, Gewürztraminer and everything in between to loyal customers for decades
Posted: May 13, 2013 By James Laube
Wine Spectator senior editor James Laube catches up with Ted Bennett of Navarro winery, a roadside institution in California's Anderson Valley where loyal fans lineup to buy everything from Pinot Noir to Gewürztraminer.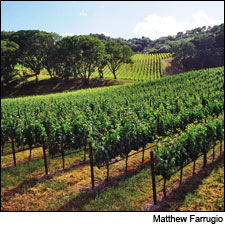 News & Features : Tasting Highlights
New reviews of Cabernet Sauvignon from California's Napa Valley
Posted: May 13, 2013 By James Laube
Blogs : James Laube's Wine Flights
As much as wine pros like to debate alcohol and ripeness, consumers' main concerns are consistency, availability and affordability
Posted: May 9, 2013 By James Laube
Within wine industry circles, there's often debate about style. Winemakers talk about scaling up or down in ripeness or alcohol. Restaurateurs and sommeliers consider which wines are better-suited for their eatery, or different cuisines, or occasions.
I never hear much of anything from consumers about wanting different styles. In fact, when I'm on the road, visiting with or drinking with friends and readers, the concerns I hear most often relate to where people live and which wines are (and are not) available to them there.
Blogs : James Laube's Wine Flights
The BottleRock music, wine and food festival will welcome 40,000 visitors a day to the city of Napa
Posted: May 6, 2013 By James Laube
Tens of thousands of visitors are expected to descend on the city of Napa (pop. 76,915) this week, but, oddly enough, that has little to do directly with wine. They're coming for BottleRock, a five-day music festival featuring more than 60 bands on three stages, headlined by the Black Keys, the Kings of Leon, Jane's Addiction, Train, Alabama Shakes and the Zac Brown Band.
It would be a big event anywhere; it's truly seismic for Napa. BottleRock promoters expect to draw 35,000 to 40,000 music lovers each day to the Napa Valley Expo, a 26-acre plot of state-owned property best known for the annual Napa Town & Country Fair in August, which might draw 40,000 people in a week. To get a grasp on the scale of BottleRock, think Bonnaroo Music and Arts Festival in Manchester, Tenn., or Coachella Valley Music & Arts Festival in Southern California's Indio, two big outdoor music festivals with scores of big-name acts and huge crowds.
Blogs : James Laube's Wine Flights
New owners, a new winemaker and new vines won't change the character of the Napa Valley icon atop Mount Veeder
Posted: May 3, 2013 By James Laube
Some things need fixing at the recently sold Mayacamas Vineyards.
Some vineyard parcels are ancient by California standards. The late-1800s Zinfandel vines are gone, but some of the Chardonnay dates to the 1950s, along with Cabernet vines planted in the 1960s. Many of the vines have the girth of a tree trunk.
But the essence of Mayacamas is best left alone.
April 30, 2013 Issue : Columns
Posted: April 30, 2013 By James Laube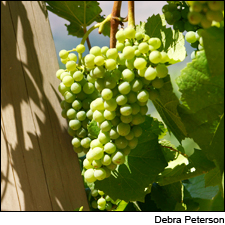 News & Features : Tasting Highlights
New reviews of outstanding bottlings from the 2011, 2010 and 2009 vintages
Posted: April 29, 2013 By James Laube