Posted: July 31, 2014 By James Laube
July 31, 2014 Issue : Tasting Reports
In a growing season lauded for a lack of drama, 2012 rolls out a large crop of vibrant, fruit-filled wines
Posted: July 31, 2014 By James Laube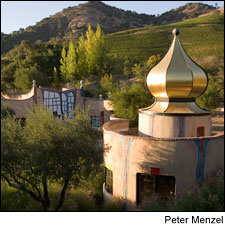 Blogs : James Laube's Wine Flights
Carl Doumani has sold his Napa winery to Chinese interests
Posted: July 23, 2014 By James Laube
The decision about what wine to make is often as basic as what you like to drink and what you can sell. Winemakers figure if they make a wine they can't sell, they can drink it themselves. Up to a point.
Carl Doumani always liked Petite Syrah (his spelling), a drop in Napa Valley's bigger sea of Cabernet. When he bought the original Stags' Leap Winery property in 1971, it came with blocks of old-vine Petite that suited Doumani just fine. And true to his contrarian nature, he hung his white hat on Chenin Blanc, another old-time favorite that was losing steam. Selling those two wines amounted to paddling upstream as Cabernet and Chardonnay become the marquee wines of Napa, and favorites of American wine drinkers.
Sale of Stags Leap property the latest in a series of recent Asian acquisitions
Posted: July 22, 2014 By James Laube
Blogs : James Laube's Wine Flights
As tonight's All-Stars play ball, I'm reminded of my press box debut at the 1967 All-Star Game
Posted: July 15, 2014 By James Laube
I thought I'd been offered a plum assignment, covering the 1967 Major League Baseball All-Star Game, held for the first time in my hometown of Anaheim, Calif., in its new stadium. I was a cub reporter for the Anaheim Bulletin and contributed little to our coverage. All the newspapers' front-line baseball writers were on hand and my editor, Doug Miles, sent as many of us to the game as wanted, likely me just for the experience. Only later did I find out why not all the staffers cared to go.
Blogs : James Laube's Wine Flights
A mixed vintage is off the pace, but stars can be found
Posted: July 15, 2014 By James Laube
To best appreciate how far viticultural and winemaking practices have come in the past decade, one need look no further than the 2011 Napa Valley Cabernets.
By most accounts this was the most damning vintage in perhaps 15 years. An altogether cool, damp year ended with heavy storms, and by some estimates as much as 50 percent of the grapes were of little or no use. I've talked with vintners who made about one-fourth of what they might have in a better year. Severe thinning led to a quarter-ton or less per acre. Thinning proved a winning strategy if only to salvage what might otherwise have been a dismal year. But based on nearly 200 reviews, the quality of the 2011 Napa Cabernets ranges from fair to, on a few occasions, outstanding.
Blogs : James Laube's Wine Flights
Alternative closures minimize the chance of a faulty wine
Posted: July 2, 2014 By James Laube
When I travel with wine, I prefer bottles with twist-off seals. That shouldn't come as a surprise to any regular readers of this blog or my magazine column. I'm convinced of the validity of twisties, and hauling around a case of them gives me a chance to test my own belief.
I recently spent a week on the Pacific on a fishing boat half-way down the Baja California coast, and the captain and the owners of the Sojourn, out of San Diego, all but encouraged anglers to BYOW, since that was one item they didn't stock (the meals, by the way, were excellent).
Posted: June 30, 2014 By James Laube
Blogs : James Laube's Wine Flights
Distribution is a major obstacle for most small vintners
Posted: June 24, 2014 By James Laube
If you want an unsullied perspective on perhaps the major challenge facing any vintner, it's worth reading Bill Foley's comments on the distribution system in one of last week's Shanken News Daily reports (one of Wine Spectator's sister publications).
While wineries can sell direct to consumers in many states, most at one level or another require a distributor to handle their wines in some markets. Foley realized that early on and owns a stake in a distribution company, Epic Wines. His company, Foley Family Wineries, accounts for about 20 percent of Epic's business.
Blogs : James Laube's Wine Flights
There's no scientific method to predicting how a wine will age
Posted: June 19, 2014 By James Laube
The Educated Guess cuvée gets its name from the many best-guess scenarios that arise during the winemaking process, from when to pick the grapes to how long to age the wine in barrel, the bottom line being that there's no scientific formula for delivering the best wine that the owners of Roots Run Deep winery can. They use their knowledge, intuition and experience to make the best decisions for their wine, allowing too that at the end of the day it's still merely an educated guess.