Posted: October 31, 2013 By James Laube
Blogs : James Laube's Wine Flights
An interview with Kermit Lynch asserts that ripe wines are off the menu, but sales don't bear that out
Posted: October 30, 2013 By James Laube
Last week, while in New York for the Wine Spectator Wine Experience, many people brought up Kermit Lynch's interview in the New York Times, in which he discusses high-alcohol wines, the 100-point rating system, terroir and natural wines, among other hot-button wine topics. I have a few thoughts of my own to offer …
Lynch isn't much a fan of California wine, yet it appears that he disqualifies himself from passing judgment on the mere basis that he hasn't and doesn't follow California's wines as closely as many. His import business is based in St. Helena, in Napa Valley, run by a Napa vintner, Bruce Neyers, and I suspect Lynch pays far greater attention to California wine than he allows. He is, after all, a businessman who competes against California.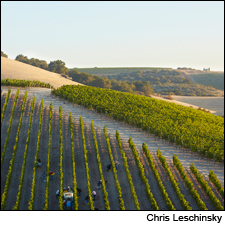 News & Features : Tasting Highlights
New reviews of Rhône-style wines from Paso Robles and Santa Barbara County
Posted: October 28, 2013 By James Laube
Blogs : James Laube's Wine Flights
I find the caffè mocha aromas of coffee and chocolate in today's wines much more frequently than those of yesteryear
Posted: October 23, 2013 By James Laube
"Mocha" has worked its way into my vocabulary as a wine descriptor over the past decade or so. I use it in reference to the aroma of a caffè mocha, particularly that dusting of cocoa powder on top of the foamed milk.
I first used "mocha" as a tasting descriptor in the magazine in 1998. In 2000, it appeared in 43 Cailfornia wine reviews and 150 Wine Spectator reviews from around the world; in 2005, it appeared in 134 and 246, respectively. So far this year, "mocha" has popped up in 232 reviews of California wines (out of more than 3,700 total), and it's been used in 614 reviews of nearly 20,000 wines around the world, so it's not just me: Mocha's popularity as a tasting descriptor is at an all-time high.
But where does that mocha aroma come from?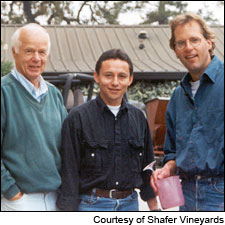 News & Features : Retrospective / Vertical
Shafer Vineyards' first vintage was an accidental success; the winery really hit its stride in the early 1990s
Posted: October 22, 2013 By James Laube
Posted: October 15, 2013 By James Laube
Posted: October 15, 2013 By James Laube
Oct. 15, 2013 Issue : Tasting Reports
Posted: October 15, 2013 By MaryAnn Worobiec, Augustus Weed, Aaron Romano, James Laube
Oct. 15, 2013 Issue : Tasting Reports
A chilly summer and rainy harvest slow the momentum of recent vintages
Posted: October 15, 2013 By James Laube
Oct. 15, 2013 Issue : Features
Posted: October 15, 2013 By James Laube