Feb. 28, 2014 Issue : Retrospective/Vertical
The evolution of a classic Napa Cabernet
Posted: February 28, 2014 By James Laube
Blogs : James Laube's Wine Flights
But what does the record-setting auction mean for nearly priced-out consumers?
Posted: February 26, 2014 By James Laube
If you need a perspective on Premiere Napa Valley, the Napa Valley Vintners' trade-only tasting and auction, consider the sports world: Sports fans are keenly aware of what a team's popularity brings. It usually means the team is improved, and that usually translates to higher ticket prices.
This past weekend, the Premiere Napa Valley auction shattered its previous record, with $5.9 million in winning bids, or $283 per bottle. The top lot, 5 cases of 2012 Scarecrow Cabernet, sold for $260,000.
Blogs : James Laube's Wine Flights
Mike Drash finds a new home in Minnesota
Posted: February 25, 2014 By James Laube
Mike Drash brought about his own climate change.
The 45-year-old vintner, who's been making wine in California, including Napa Valley, for two decades, has relocated with his family to Kasota, Minn., where he signed on as winemaker at Chankaska Creek Winery, a growing 5,300-case operation; the nearest big city is Des Moines, Iowa, to the south.
Blogs : James Laube's Wine Flights
Michael Broadbent's vast catalog of wine writing offers much to learn
Posted: February 21, 2014 By James Laube
Michael Broadbent, 86, is one of wine's foremost authorities. In honor of his service to the wine auction industry at Christie's, he was the recipient of Wine Spectator's Distinguished Service Award in 1991. A prolific author of more than a dozen books, he is a scholar with a preoccupation for ancient wines, mostly French, but also German, Vintage Port, Champagne and Madeira. His two reference works, The Great Vintage Wine Book (Knopf, 1980), and its successor, The New Great Vintage Wine Book (Knopf, 1991), should be in any wine lover's library.
Blogs : James Laube's Wine Flights
Two of John Kongsgaard's oldest wines proved nimble and fascinating—special wines that were nevertheless well past their prime
Posted: February 5, 2014 By James Laube
There's a downside to aging wines too long. That might seem obvious, but few wine lovers take that into consideration when purchasing wines to lay down in the cellar for a while.
In a conversation and tasting with John Kongsgaard the other day, we talked about terroir, to what extent it exists (and can be identified), at what age it might be most readily identified in a wine and, ultimately, that with enough age, all wines lose their terroir. They become old wines inseparable from one another.
Illustrating this point, Kongsgaard poured two Cabernets that he made early on his career, as a 26-year-old home winemaker in the 1970s with his father, Thomas, in Napa.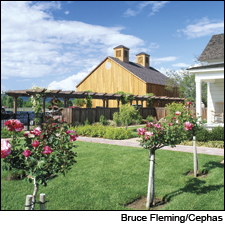 News & Features : Tasting Highlights
New reviews of California reds from the 2010 vintage
Posted: February 3, 2014 By James Laube
With no rain in sight, reservoirs are empty and vintners fear a small crop even before the vines wake up
Posted: January 21, 2014 By James Laube, Tim Fish
Blogs : James Laube's Wine Flights
Corks are better than they used to be, but they'll never be perfect
Posted: January 17, 2014 By James Laube
Wine Spectator senior editor James Laube reports his latest findings on the percentage of corked and tainted California wines that were tasted in Wine Spectator's tasting room in 2013. Cork taint frequency was up just a tick last year to a 4.26 percent failure rate.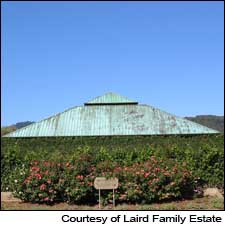 News & Features : Tasting Highlights
New reviews of Cabernet Sauvignon from the 2009 and 2010 vintages
Posted: January 13, 2014 By James Laube
Posted: December 31, 2013 By James Laube