Posted: December 31, 2013 By James Laube
Posted: December 15, 2013 By James Laube
Posted: November 30, 2013 By James Laube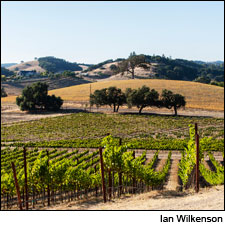 News & Features : Tasting Highlights
New reviews of Syrah and Grenache blends from Paso Robles
Posted: November 25, 2013 By James Laube
Blogs : James Laube's Wine Flights
Rising prices have become an inevitability when it comes to fine wine
Posted: November 25, 2013 By James Laube
One of the hard truths about wine is that eventually you'll get priced out. That is, the wines you gravitate to and find so comfortably affordable will cost more.
These are often wines your special go-to wines, the wines you "discovered," and didn't want anyone else to find out about. Barring your own dramatic shifts in good fortune, they will eventually extend beyond your financial reach. The main reason is that quality wines will almost always reach a broader audience, which inevitably leads to higher prices.
Blogs : James Laube's Wine Flights
Jon Bonné's 'The New California Wine' offers rewarding vignettes, but minimizes much of what California's established vintners have accomplished
Posted: November 18, 2013 By James Laube
Jon Bonné insists he doesn't dislike all California wine, but he's hardly enamored with much of it. He makes that point clear in his new book, The New California Wine, A Guide to the Producers and Wines Behind a Revolution in Taste (Ten Speed Press, $35).
Nov. 15, 2013 Issue : Features
Hall of Fame pitcher Tom Seaver crafts a powerful Cabernet from Napa's Diamond Mountain
Posted: November 15, 2013 By James Laube
Posted: November 15, 2013 By James Laube
Nov. 15, 2013 Issue : Features
Twenty wines shine in a recent tasting, but the vintage comes up short overall
Posted: November 15, 2013 By James Laube
Nov. 15, 2013 Issue : Features
The 2010 wines from California are dense, balanced, and ideal for the cellar
Posted: November 15, 2013 By James Laube