Posted: November 15, 2014 By James Laube
Nov. 15, 2014 Issue : Tasting Reports
A cool, damp 2011 vintage yields few gems, with hillside sites performing best
Posted: November 15, 2014 By James Laube
Posted: October 31, 2014 By James Laube
Posted: October 15, 2014 By James Laube
Posted: October 15, 2014 By James Laube
Blogs : James Laube's Wine Flights
A look at Fred and Carol Schrader's new Boars' View Sonoma Coast Pinot Noir and Chardonnay
Posted: October 10, 2014 By James Laube
Fred and Carol Schrader's new label could easily have been called Boars' View of Marcassin, because that's the story behind its name.
The Schraders' Boars' View looks out at Marcassin (which is French for young wild boar), the adjacent vineyard and winery owned by Helen Turley and John Wetlaufer in the Fort Ross-Seaview appellation of Sonoma Coast. It's in a remote, tree-shrouded area, a few miles inland from the Pacific, but clearly warm enough to fully ripen grapes.
Blogs : James Laube's Wine Flights
Next week's Wine Spectator Wine Experience is the place to be
Posted: October 8, 2014 By James Laube
Think of it as a one-night tour of the wine world, with many of its superstar wines and their makers under one roof.
Think of it as a crash-course refresher on those iconic wines from those celebrated regions from the Old World and a glimpse of what lies ahead from the New World.
It's all on stage at next week's New York Wine Experience, where more than 260 of the world's greatest wines will be on display at the Grand Tastings.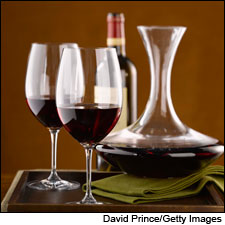 News & Features : Retrospective / Vertical
A steady growing season and a late burst of heat put 2004 wines in the sweet spot
Posted: October 8, 2014 By James Laube
Public relations expert helped Mondavi and other California vintners promote wine's virtues
Posted: October 3, 2014 By James Laube
Blogs : James Laube's Wine Flights
Tensley and TGIC Importers team up for a unique blend
Posted: October 1, 2014 By James Laube
Joey Tensley and Alex Guarachi have teamed up to make an exciting new red wine from Santa Barbara that is exactly what wine lovers are looking for: an outstanding wine that's affordable and available.
They have collaborated on a wine called Tenshen, a $25 red with 3,500 cases made. The first vintage, 2013, exhibits a fresh, lively array of flavors, extending from ripe, juicy plum and black cherry to subtler dried herb, tar and rose petal.